Art in the First World War
Art of the First World War Online Exhibition
An online exhibition at Art of the First World War is an exhibition of 100 paintings by 54 artists to commemorate the 80th anniversary of the end of the Great War on 11th November 1918. This exhibition has been extended to continue for an extra year through financing from the Caen Memorial and the Historial Museum of the Great War at Péronne.
David Cohen Fine Art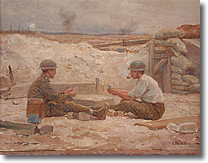 David Cohen Fine Art was founded in 1984 and specialises in paintings, prints, drawings, sculpture and trench art of the First World War, 1914-1918. David Cohen has had five major art exhibitions and he sells worldwide to museums, regiments and private collectors. His collection represents an important part of the history of the First World War. Within the website, there are landscapes showing the devastation wrought by war and everyday scenes of army life in and out of the trenches and on the Home Front. Portraits and sculpture are also included together with moments of humour in the cartoons drawn from the grim nature of life at the front.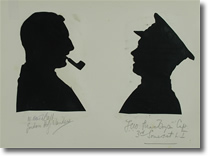 David is a past Chairman of The The Western Front Association and writes regular articles on art for their journal. He also lectures extensively on art of the Great War to various branches of The Western Front Association around the country. His website was quoted in the Daily Telegraph of 11th November 2006 as being one of the top websites for art of the period.
For more information go to:
Imperial War Museum Department of Art
The Imperial War Museum holds the majority of works of art commissioned by the official war artists scheme in the First World War. The art galleries display a wide range of work. Works of art not on show may be viewed by appointment. Please make enquiries to the Imperial War Museum Department of Art.
World War Pictures
World War Pictures: Posters, Photos and Artists is a website featuring imagery in the form of posters and photos from the First and Second World Wars. Images are available to purchase online and the site also has a merchandise section for DVDs, CDs and books. Sections of the site are dedicated to War Poets and War Artists.
For more information go to the website at:
---
Copyright Joanna Legg & Graham Parker © 2003. Updated March 2009. All rights reserved.