The article is the copyright of Russ Swindon and has been published in "Chatterbox", the journal for Legacy, an Australian organisation whose charter is to care for the widows and dependants of ex-servicemen.
"In Flanders Fields the Poppies Blow..."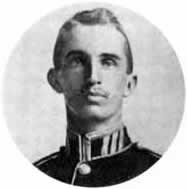 Over 90 years ago, on May 2, 1915 a young Canadian Lieutenant was killed by a shell burst just north of Ypres (Ieper) in Belgium. The news of the death of Alexis Helmer would have brought great grief to his widowed mother back in Ottawa but at the time a more personal loss was felt by his friend who had, in the absence of the chaplain, the melancholy task of performing the funeral ceremony. Who was this friend and why was the death of Alexis Helmer to become so important to the many Australian, British and Canadian families who mourn the loss of loved ones?
The second son of Lt-Col. David McCrae and his wife Janet, John McCrae was born on November 30, 1872 in Guelph, Ontario, Canada. That he grew to become a compassionate man with strong spiritual values and high principles was a reflection of his Scottish Presbyterian upbringing.
John's youthful interests were varied ranging from the writing of poetry to joining an Army Cadet Corps at the age of 14 and enlisting in the Militia field battery, commanded by his father, at age 17. Having graduated from college at the age of 16 he was the first student from Guelph to obtain a scholarship to the University of Toronto.
The years from 1889 to 1898 were filled with study, first for his Bachelor of Arts degree and then for his degree as Bachelor of Medicine which included the award of a Gold Medal from the University of Toronto medical school. During this time he was forced, through illness, to take a year off from study. However he occupied this time teaching English and Mathematics at the Agricultural College in Guelph. It is also believed that during this period he fell in love but sadly the young lady died not long after they had met. Poetry written by John at this time, expressing his sorrow, had an underlying theme of death.
After working as a resident house doctor at Toronto General Hospital John joined his brother, Thomas, at the Johns Hopkins Hospital in Baltimore. This was in 1899 and the Boer War was about to begin.
John McCrae considered it his duty to fight for his country. He obtained a postponement of the fellowship in pathology that had been awarded to him at McGill University in Montréal. Having had, as we have seen, previous experience in the Militia field battery he received a commission to command an artillery battery from Guelph.
After spending a year in Africa McCrae returned home but it was not without carrying with him mixed feelings. Although still sure in his mind of the need to fight for his country he was greatly upset by the poor treatment received by sick and injured soldiers. It is a matter of record that during the Boer War the number of soldiers who died from illness far out numbered those killed in battle, a fact attested to here in Australia by examination of the Boer War Memorials to be found scattered throughout the country. However McCrae maintained his association with the army until 1904 when he resigned, having been promoted to Captain and then Major.
It was not until 1914 that John McCrae again became involved with the military. He was among the 45,000 Canadians who joined up in the three weeks following the declaration of war. Once again he was an artillery man being appointed as 2 IC of the First Brigade of the Canadian Forces Artillery. Major McCrae was also appointed as Brigade Surgeon.
Once again we see exhibited the conscience and principles of the man. Just prior to his departure he wrote:
"It is a terrible state of affairs, and I am going because I think every bachelor, especially if he has experience of war, ought to go. I am really rather afraid, but more afraid to stay at home with my conscience." (1)
It is most likely that the guns of McCrae's brigade would have been drawn by horses so it would not have been out of place for him to take his own personal horse, Bonfire, which had been given to him by a friend. Not unlike the fictional Colonel Potter in MASH who found solace with Sophie so to did John McCrae. For respite, he took long rides on Bonfire through the French countryside. Another animal companion was a casualty of the war, the dog Bonneau, who adopted John McCrae as his special friend. The compassionate nature of John McCrae was exhibited in many ways, foremost amongst these were the letters he sent to his young nieces and nephews supposedly written by Bonfire and signed with a hoof print.
And so we come to May 3, 1915 and John McCrae is seated in the back of an ambulance at his dressing station not far from the Essex Farm Cemetery where his friend lay. The dressing station was just a series of holes dug into the canal bank. It was not until after McCrae was there in the spring of 1915 that the concrete bunkers were built. The wild poppies that grew in the ditches of that part of Europe caught his attention and he took but twenty minutes to scribble fifteen lines of verse. At the time, a young soldier, Cyril Allinson, was delivering mail. Allinson later recalled "His face was very tired but calm as he wrote. He looked around him from time to time, his eyes straying to Helmer's grave."
When he had finished writing McCrae, without a word, handed his note pad to Allinson "The poem was exactly an exact description of the scene in front of us both. He used the word blow in that line because the poppies actually were being blown that morning by a gentle east wind. It never occurred to me at the time that it would ever be published. It seemed to me just an exact description of the scene." (2)
Fortunately the poem was published. McCrae was dissatisfied with it and cast it aside only to be retrieved by a fellow officer who sent it to a number of newspapers in England. Although rejected by The Spectator it was published by Punch on December 8, 1915.
McCrae became bitter and disillusioned as he anguished over the fighting and horrendous losses that were occurring.
"He felt he should have made greater sacrifices, and insisted on living in a tent through the year, like his comrades at the front, rather than in the officers' huts. When this affected his health in mid-winter he had to be ordered into warmer surroundings. To many he gave the impression that he felt he should still be with his old artillery brigade. After the battle of Ypres he was never again the optimistic man with the infectious smile." (3)
McCrae had been a chronic asthmatic since childhood and this together with attacks of bronchitis and the trying physical conditions led to him becoming seriously ill with in January 1918 and on January 28 he died of pneumonia and meningitis. A few days previously he learnt that he was the first Canadian to be appointed as consulting physician to the First British Army.
Bonfire led the procession when McCrae was buried with full military honours. As is customary McCrae's riding boots were reversed in the stirrups. A friend wrote of the funeral:
"The day of the funeral was a beautiful spring day; none of us wore overcoats. You know the haze that comes over the hills at Wimereux. I felt so thankful that the poet of `In Flanders Fields' was lying out there in the bright sunshine in the open space he loved so well..." (4)
In Flanders Fields
In Flanders fields the poppies blow
Between the crosses, row on row,
That mark our place: and in the sky
The larks, still bravely singing, fly
Scarce heard amid the guns below.
We are the Dead. Short days ago
We lived, felt dawn, saw sunset glow,
Loved and were loved, and now we lie,
In Flanders fields.
Take up our quarrel with the foe:
To you from failing hands we throw
The torch: be yours to hold it high.
If ye break faith with us who die
We shall not sleep, though poppies grow
In Flanders fields.
by John McCrae (1872-1918)
Before he died McCrae was aware of the success of his poem. It had become the most popular poem of World War 1, being translated into many languages. In 1917 in Canada it was used in advertising for Victory Loan Bonds, the aim being to raise $150,000,000 the result was a staggering $400,000,000.
It was the poem's popularity that led to the adoption of the Flanders' Poppy as the Flower of Remembrance for the war dead of Britain, France, the United States, Australia, Canada and other Commonwealth countries.
To commemorate the 50th Anniversary of the end of World War 2, Celebrations were held in London. "… with a roar, the still summer air was shattered as the nation's last airworthy Lancaster bomber flew above The Mall, sending a million red poppies raining down." (5)
What a fitting tribute to John McCrae.
---
Credits & Acknowledgements
(1) In Flanders Fields, The Story of John McCrae, by John F Prescott p. 77
(2) Allinson quoted in the Arlington National Cemetery website
(3) In Flanders Fields, The Story of John McCrae, by John F Prescott p. 110
(4) In Flanders Fields, The Story of John McCrae, by John F Prescott p. 129
(5) Quotation and photograph from PastTimesProject.co.uk
The Early Years, The Young Doctor, The South African War, The Flower of Remembrance: Veterans Affairs Canada: www.vac-acc.gc.ca
Images of Western Ieper-Ijser Canal Bank, Flooded Concrete Bunkers, Renovated Concrete Bunkers, Essex Farm Military Cemetery. By permission of Joanna Legg www.greatwar.co.uk
Copyright Russ Swindon © 2007 All rights reserved