The Poppy Umbrella: A Gift to Remember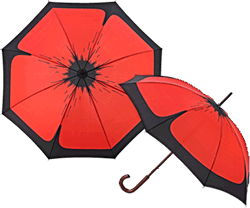 Searching for a special gift?
The family behind greatwar.co.uk also founded The Poppy Umbrella in 1998. This unique umbrella was inspired by the bright red Flanders poppy.
The idea at the heart of this unique umbrella relates to our 30 years of study of the 1914-1918 Western Front, and our aim to "Remember" all those whose lives were affected or cut short by the Great War. Twenty members of our family served in the British Army, the Royal Flying Corps and the Royal Air Force during the First World War. Five did not return home and are buried in France.
A Gift to Remember
Available in a range of popular styles this unique umbrella is truly a "Gift to Remember". It can be used all year round throughout the seasons to give shelter from the rain and shade from the sun.
Give The Poppy Umbrella as a birthday or Christmas present.
Buy one for yourself to brighten up a rainy day!
Don't let the rain spoil a wedding or a special outoor function... Poppy Umbrellas will protect your guests and add a vivid splash of colour to your special occasion.
The Poppy Umbrella is an ideal gift for anyone who loves the red poppy.
Poppy Umbrella: Telescopic Minilite Style

A handy folding umbrella, light and easy to carry for everyday use.
Buy from our website at www.rembrella.co.uk Telescopic Style Minilte Poppy Umbrella
Poppy Umbrella: Transparent Birdcage Style

A fashionable transparent dome-style umbrella.
Buy from our website at www.rembrella.co.uk Transparent Style Birdcage Poppy Umbrella
Poppy Umbrella: Standard Roma Style

This traditional style umbrella will add a vivid splash of colour on a wet day.
Buy from our website at www.rembrella.co.uk Standard Style Roma Poppy Umbrella
Poppy Umbrella: Golf Style

A large umbrella, ideal for outdoor activities like golfing or walking.
Buy from our website at www.rembrella.co.uk Golf Style Poppy Umbrella
The Poppy Umbrella by Rembrella

The Poppy Umbrella is manufactured and distributed exclusively by the family behind this website of www.greatwar.co.uk. We administer The Poppy Umbrella under the company name of Rembrella Limited.
Our Donation to a Service-related Charity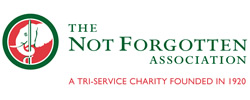 Each year we sell a number of Poppy Umbrellas direct to the public by mail order from our Rembrella Ltd. website. Each umbrella sold includes a donation of 50p to a military-related charity of our choice.
From April 2013 we have been donating to The Not Forgotten Association, a Tri-Service charity founded soon after the First World War in support of injured Servicemen and women. Today this charity continues to provide leisure and entertainment opportunities for men and women who have been injured whilst serving with the United Kingdom's military forces.
To find out more about The Not Forgotten Association see our page at:
You can also make a donation directly to The Not Forgotten Association at:
Website: www.nfassociation.org/donations
Buy a Poppy Umbrella
The sales we make direct to the public from our mail order website support Rembrella Ltd. to be able to provide The Poppy Umbrella on demand, in small quantities and at the lowest cost for numerous charitable and not-for-profit Service-related organizations. As an ex-military family we are very proud that The Poppy Umbrella is helping to support the good work of numerous military heritage, welfare and educational organizations
Our website: www.rembrella.co.uk Poppy Umbrella Products: A Gift to Remember
Rembrella Ltd.
Postal address: Rembrella Limited, 12 Oak Ash Green, Wilton, Salisbury SP2 0RR, England
Company No. 6072644
Telephone: 01344 - 989 802 (international +44 - 1344 - 989 802)
Email: info@rembrella.co.uk
Website: www.rembrella.co.uk
Related Topics
Inspiration for The Poppy Umbrella
The story of how The Poppy Umbrella idea was created on a rainy Armistice Day in Ypres:
Red Poppies & Rain: The Poppy Umbrella Idea
Story of the Remembrance Poppy
Read about how the wild red poppy flower of Flanders developed into an international symbol of Remembrance: