The Poppy Umbrella

The family behind greatwar.co.uk founded The Poppy Umbrella in 1998. It is made by the internationally renowned umbrella manufacturer A Fulton Co Ltd and distributed exclusively by us under the company name of Rembrella Limited.
The idea at the heart of this unique umbrella was inspired by the bright red Flanders poppy. For 40 years we have studied and guided visitors on the 1914-1918 Western Front in Belgium and France. Twenty members of our family served in the British Army, the Royal Flying Corps and the Royal Air Force during the First World War.
We supply The Poppy Umbrella to a number of military related charities, not-for-profit and heritage organizations. As an ex-military family we are proud that their sales of The Poppy Umbrella help to support their good work.
Where to Buy The Poppy Umbrella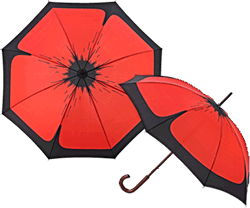 This eye-catching umbrella is available in a range of frame styles either from us at Rembrella or from a number of gift/online shops trading on behalf of charities, museums and heritage centres.
Buy one for yourself to brighten up a rainy day!
It's an ideal gift for anyone who loves the red poppy!
Visit our sister website at Rembrella to see The Poppy Umbrella styles and where to buy one:
Website: www.rembrella.co.uk
Supporting the Not Forgotten Association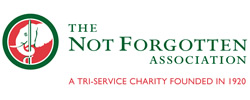 From each sale of a Poppy Umbrella via our www.rembrella.co.uk website Rembrella donates £1.00 to The Not Forgotten Association.
The Not Forgotten Association is a Tri-Service charity founded shortly after the First World War in support of injured Servicemen and women. Today this charity continues to provide leisure and entertainment opportunities for men and women who have been injured whilst serving with the United Kingdom's military forces.
To find out more about The Not Forgotten Association see our page at:
You can make a donation directly to The Not Forgotten Association at:
Website: www.nfassociation.org
Rembrella Ltd.
Postal address: Rembrella Limited, 12 Oak Ash Green, Wilton, Salisbury SP2 0RR, England
Telephone: 01344 - 989 802 (international +44 - 1344 - 989 802)
Email: info@rembrella.co.uk
Website: www.rembrella.co.uk
Company No. 6072644