WW1 Museums and Archives
A wide range of museums display uniforms, weapons, artefacts, art, film and documents dating back to the First World War of 1914-1918. Many have archives of military records, individuals' records, photographs and documents. Some are small, private collections and some are large, national memorials to the memory of those who served their country in the time of war.
The location and details of numerous museums and sources of archives available to visit by the public are listed on this website.
WW1 Museums on the Western Front Battlefields
Franco-Australian museum in the Victoria School at Villers-Bretonneux on the Somme battlefields.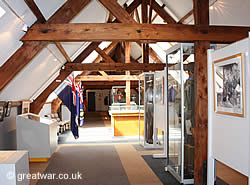 See our listings of the public and private museums on the WW1 battlefields, with visitor facilities' information, contact details and map location.
Museums on the Antwerp, Yser/IJzer & Belgian Coast Battlefields, Belgium
Museums on the Ypres Salient Battlefields, Belgium
Museums on the French-Flanders & Artois Battlefields, France
Museums on the Somme Battlefields, France
WW1 Museums and Archives Around the World
Australia: Museums & Archives for WW1
Belgium: Museums & Archives for WW1
Canada: Museums & Archives for WW1
France: Museums & Archives for WW1
United Kingdom: Museums & Archives for WW1
United States: Museums and Archives for WW1
Related Reading
Military Museums in the UK (Illustrated paperback)
by Colin Sibun
There are over 130 local and national military museums in the United Kingdom. Many of these are able to offer advice on resources for educational requirements. Published by Third Millennium Information (Second edition Mar 2011). 104 pages. ISBN-10: 1906507511, ISBN-13: 978-1906507510