Imperial War Museum London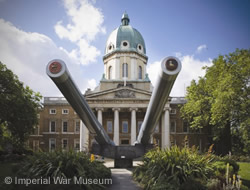 The museum re-opened in July 2014 after a major redevelopment. Brand new First World War Galleries were launched to mark the 100 year anniversary of the start of the First World War.
The collections at the museum illustrate all aspects of warfare in the twentieth century where British and Commonwealth forces have been engaged.
To find out more about the Imperial War Museum, its collections, research departments, activities, events and school programmes visit the IWM website.
Website: www.iwm.org.uk
Research Sources at the IWM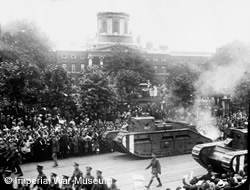 Extensive research material held by the Imperial War Museum's seven collecting departments can be visited and viewed by making an appointment with the relevant department:
Department of Art
Department of Documents
Department of Exhibits and Firearms
Department of Film and Video Archive
Department of Photographs
Department of Printed Books
Department of Sound Records
For information about the collections and the Explore History Centre go to the Collections section of the Imperial War Museum website at:
Website: www.iwm.org.uk Collections
Website: www.iwm.org.uk Research Facilities
Online Search of the Collections
Men of the Border Regiment resting in shallow dugouts near Thiepval Wood during the Battle of the Somme during August 1916. (IWM Q872)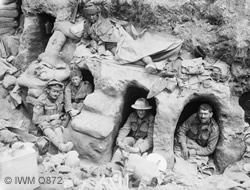 If you wish to search the collections to find out a title of a published book in the Printed Books Department, for example, as in a regimental history, you can go to the IWM Collections Search section on the museum website:
Website: www.iwm.org.uk Search
Collections Enquiry Service
A service is available whereby enquiries can be sent to the museum staff who can provide information about the collections. To make an enquiry go to:
Website: www.altarama.com (IWM Collections Enquiry Service)
First World War: Search Topics
Visit this page on the IWM website for a wide range of topics, some offering resource material:
Website: www.iwm.org.uk First World War
Learning at the IWM
The Education Department at the Imperial War Museum offers a wide range of teaching sessions and resources to help make the visit to the museum a memorable one.
Website: www.iwm.org.uk Groups & Schools
Visitor Information
Opening Hours
Open daily 10.00 - 18.00 (Last admission 17.30 hours)
Closed 24, 25 and 26 December.
Admission
Admission is free.
Special exhibitions may charge a fee.
Location of Imperial War Museum London
Address: Imperial War Museum, Lambeth Road, London SE1 6HZ, England
Telephone: (enquiries) +44 (0)207 416 5000
Fax: (main building) +44 (0)207 416 5374
Email: mail@iwm.org.uk
Website: www.iwm.org.uk
IWM Sites in the United Kingdom
HMS Belfast
Website: www.iwm.org.uk HMS Belfast
Churchill War Rooms
Website: www.iwm.org.uk Churchill War Rooms
Duxford
Website: www.iwm.org.uk Duxford
IWM North
Website: www.iwm.org.uk IWM North
Related Topic
See our listing of World War One related museums and archives on the Western Front and around the world.
Acknowledgements
Photographs courtesy of the Imperial War Museum London Press Office.