WW1 Exhibitions, Conferences, Lectures & Commemorative Events
This page provides links to pages on this website for selected listings of a variety of events related to the First World War and online virtual exhibitions.
Do you have any Great War related events?
Send us an email to webmaster@greatwar.co.uk giving us the date, location, contact details and description of your event.
WW1 Related Events in Belgium, on the Battlefields of the Western Front
Buglers of the Last Post Association play "Last Post" at a daily ceremony at the Menin Gate Memorial to the Missing in Ypres, Belgium.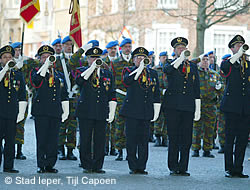 The daily playing of Last Post at the Menin Gate Memorial to the Missing in Ieper/Ypres, Belgium has become a prominent focus of Remembrance for visitors to the Ypres Salient in Belgium. Official and private events are also held for the public to attend, including commemorations of battle anniversaries, unveilings of new or refurbished memorials, special concerts, exhibitions and lectures. For further details of What's On see our page:
WW1 Related Events in France, on the Battlefields of the Western Front
Events, exhibitions and commemoration ceremonies take place each year:
Artois and French Flanders Events
WW1 Related Events in the United Kingdom
A number of events take place each year in the form of Acts of Remembrance, exhibitions, plays, concerts and lectures. See our page for WW1 related events in the United Kingdom:
WW1 Events in the United Kingdom
WW1 Related Events in Australia
See our page for WW1 related events, exhibitions and commemorations in Australia and overseas, plus links to websites with advice for Australian visitors making commemorative visits to battlefield sites overseas:
WW1 Events & Commemorations in Australia & Overseas
WW1 Related Events in Canada
See our page for WW1 related events, exhibitions and commemorative projects in Canada and overseas:
WW1 Events & Commemorations in Canada & Overseas
WW1 Related Events in New Zealand
See our page for WW1 related events and commemorations in New Zealand and overseas:
WW1 Events & Commemorations in New Zealand & Overseas
WW1 Related Events in the USA
See our page for WW1 related events and exhibitions in USA:
WW1 Events & Exhibitions in the USA
Related Topic
Virtual WW1 Online Exhibitions
There are a number of virtual WW1 exhibitions available to view online. For links to these you can visit our page at: