WW1 Related Events in the United Kingdom
This page provides information about events related to the First World War taking place in the United Kingdom. Index to the listings:
Do you have any Great War related events?
Send us an email to webmaster@greatwar.co.uk giving us the date, location, contact details and description of your event.
Remembrance Ceremony — Act of Remembrance
The Western Front Association Centenary Commemoration of the Deployment of the British Expeditionary Force in August 1914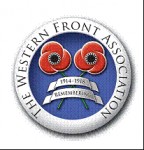 As one of the first major national events to start the Centenary commemorations of 2014-2018 The Western Front Association will commemorate the Deployment of the British Expeditionary Force to France. Our commemoration is about remembering the physical movement to France of thousands of Servicemen and horses with their associated equipment and all those who made the move possible. The deployment of August 1914 was carried out in two parts: the Ground Force and the first British Deployment of an Air Force.
In a series of transport related events using motorbikes, a horse-drawn wagon, vehicles and aircraft we shall be remembering the first units transported to France from 9th August 1914 by land, sea and air. To mark the one hundred year anniversary of this movement to France, The Western Front Association is organising Commemorative Journeys on 10th, 11th, 12th and 13th August to represent the movement of the Land Force and the Air Force to France. The Journeys will culminate on the afternoon of 13th August 2014 with a Service of Remembrance to be held at the Faubourg d'Amiens Cemetery, Arras Flying Services Memorial and Arras Memorial, Arras, France.
The events are open to W.F.A. members, family and friends to attend. The public will be welcome to join us in these Centenary commemoration events. Updates on timings and locations will be announced here nearer the time.
Theatre
Concert
Conference
Study Course
WW1 "Living History"
Family Activities & Events
Railway Heritage Event
Lecture Programmes on WW1 Military History
2014-2018 Centenary Event Listing Websites
Related Reading
Related Topics
Events on The Western Front
Events relating to the First World War on the Western Front battlefields:
Artois and French Flanders Events
Centenary Events
2014-2018 WW1 Centenary Events
Tracing World War 1 Family History
See our pages for information and advice on finding out how to trace an ancestor who served in the military in the First World War: