Tracing World War 1 Family History
Corporal Thomas Henry Parker, 2nd Battalion Royal Welsh Fusiliers, killed in action on the Somme battlefield near Lesboeufs on 6 November 1916.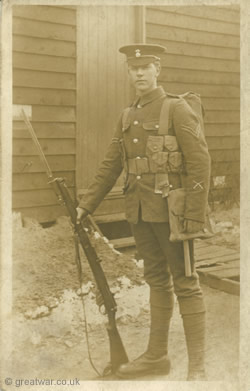 If you are researching your family history you may discover that one of your ancestors was a soldier, sailor or airman who served with the military forces in the Great War of 1914-1918. You may have a photograph, medals, diaries or letters belonging to your relative. Often there may just be a story passed down through the family about a family member having been in the First World War.
Even with a small amount of information to start with it can be possible to at least find out a general overview of a person's 1914-1918 military service. Sometimes the luck of finding an unexpected piece in the puzzle can lead to being able to follow in their footsteps to and finding oneself within a few metres of where they were in action.
Over the last few years a wealth of resource material has been made available for tracing individuals and the military units with which they served in World War One. Some records are now available online to download free, for a fee or by subscription. Military museums and libraries, national archive collections, newspaper and photograph libraries, census records, town archives, village memorials, memorials in churches are sources which possibly will help point you in the right direction.
If you have a name for your ancestor and nothing more, it is still likely that you will be able to find some information, although, of course, the more details you have, the better. Sadly, sometimes it can be easier to trace a relative in the war of 1914-1918 if he was a casualty as his death will be recorded with the details of his military unit, date of death and location of burial or commemoration.
With regard to starting from scratch for a serviceman and his military service in the First World War the first question to find an answer to is whether he died in the war. If this can be confirmed, then it will usually provide enough detail to tell you which unit he was serving with and should provide a regimental number, helping you to confirm his identification when you look at other military records.
Records of First World War Military Dead
Grave of Corporal Thomas Henry Parker, Royal Welsh Fusiliers, killed and missing in action. The remains of this soldier were later found in the 1930s and he was buried in a Commonwealth War Graves cemetery at London Road near High Wood on the Somme battlefield.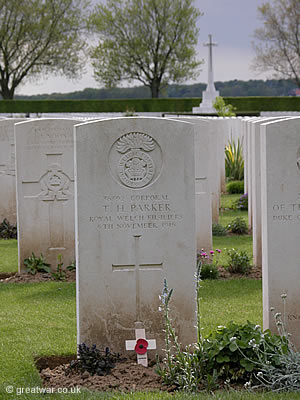 Finding out if the Serviceman died in the war will help you to get started in finding out details about someone who served in the military during the First World War. Most of the war grave agencies which care for the burials of military war dead now provide access to their records online. If this is access is not available you can write for information.
From this starting point, you will usually be able to find out all or some of these details: the date of death, age at time of death, unit of military service, next of kin, place of burial.
For information and contact details for the various war grave agencies of the 1914-1918 Allied Forces (America, Belgium, Britain and the Commonwealth, Italy and France) and German Army, plus a variety of other records available to commemorate and list those killed in the First World War see our information page at:
Records for the War Dead of WW1
Medal Records for the First World War
British campaign medals: 1914-15 Star, British War Medal and Victory Medal. These were often known by their nickname after the war of "Pip, Squeak and Wilfred".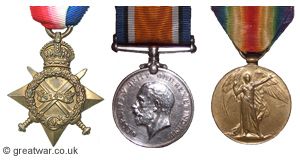 Whether the person you are tracing did or didn't survive the war, there may be records available to enable you to discover more about them. This can be varied depending on the archives held by the relevant country.
Records for the award of campaign medals and gallantry medals may also provide some additional personal information such as when the person entered a Theatre of War and regimental numbers and the unit he served in.
For more about the available information on British Medal Records see our page at:
British WW1 Medal Records 1914-1920
Military Service Records
Where these records survive, they provide invaluable information about the history of a person's service in the military forces. Usually the Service Record will include an Attestation Paper completed when the person enlisted, medical information, service completed at home or overseas, correspondence and details of next of kin. Service Records (where they have survived) may be available for:
Navy
Army
Marines
Air Personnel
Women's Army
Nurses
More information and links to Service Records for Australian, Canadian, New Zealand and US Forces can be found on our page at:
WW1 Research & Sources of Information
See our page about the many and varied ways to find out more from original documents in archives to photographs and maps about the First World War:
WW1 Research and Sources of Information
Related Reading
Army Records: A Guide for Family Historians (Paperback)
by William Spencer
Published by The National Archives; illustrated edition (29 Feb 2008), 160 pages, ISBN-10: 1905615108 and ISBN-13: 978-1905615100
Tracing Your Army Ancestors (Paperback)
by Simon Fowler
Published by Pen & Sword Books Ltd (17 Aug 2006), 192 pages, ISBN-10: 1844154106 and ISBN-13: 978-1844154104
Tracing Your First World War Ancestors (Family History) (Paperback)
by Simon Fowler
Easy to use guide for novice researchers. Published by Countryside Books, New edition (13 Nov 2008), 192 pages, ISBN-10: 1846741300 and ISBN-13: 978-1846741302
Great War Lives: A Guide for Family Historians (How Our Ancestors Lived) (Illustrated hardcover)
by Paul Reed
A very helpful guide to the resources available and where to find them for people researching family members who served in the military in the First World War. In twelve stories of individuals and their military service the author describes the life of a serviceman on the fighting front, at home on leave and in training. Showing the resources he has used to build up each story Paul illustrate the variety of ways of finding military records for the family historian. Paul Reed is a military historian and author of several highly acclaimed books about visiting the battlefields of the Western Front. Published by Pen & Sword Books Ltd (18 Nov 2010), 224 pages, ISBN-10: 1848843240 and ISBN-13: 978-1848843240
Useful Links
The following websites provide useful information, guides for research, online or catalogued data collections. Some are free to search, some require access by pay per view or by subscription.
The National Archives, Kew, Surrey
Website: www.nationalarchives.gov.uk
Ancestry.co.uk
Website: www.ancestry.co.uk
Findmypast.co.uk
Website: www.findmypast.co.uk
Forces War Records
Website: www.forces-war-records.co.uk
The Genealogist
Website: thegenealogist.co.uk
Naval & Military Archive
Website: www.nmarchive.com
Photograph Restoration Service
Photographs Forever: Photo Restoration and Photograph Retouching
Restore and preserve your precious WW1 photographs. Leading photograph restorers Photographs Forever provide a quality Photo Restoration, Photo Retouching Service and Photo Editing Service. Your photographs will be scanned in high resolution, they will be restored and digital files and/or fresh new prints of your old photographs can be provided. See the website for more information:
Website: www.photographsforever.co.uk