WW1 Research & Sources of Information
The Great War of 1914-1918 is a vast subject. Listed here are links to our pages or external links to websites covering some of the more specialist areas of World War 1 archives and resources for research. You will find information on a variety of resource material for research on this subject including archives and libraries, military records, maps, museums, schools resources and what records are available to help you trace WW1 family history.
Information on this page features:
Academic Study
Educational establishments committed to the study of the First World War can be found on our page of organizations at:
Organizations for WW1 Academic Study
Archives, Military Records and Publications
Archives and records dating back to the 1914-1918 war are held for individuals and military units in a variety of museums and archive collections. Many records are now available to view or buy online from public and government archives. Depending on the service offered by the archive institution, information can be downloaded free, for a single fee or by subscription. This is a great help if you cannot travel to view the records in another town or even another country.
Some public records listings are available to buy in book form or on CD Rom. But if you cannot afford to buy the book or CD, it is out of print or out of stock, it may be possible to request it as an inter-library loan. Ask about this at your local library.
A variety of books related to specific topics are suggested on this website as "Further Reading" on this website. The suggestions are intended to be a guide to help with research on the Great War of 1914-1918. If you do not wish to buy a listed book you may still find that the ISBN reference and publisher's reference is helpful if you prefer to borrow it from a library.
Miltary Records for Tracing WW1 Family History
There are several sources of military records which may be helpful for researching a family member who served in the First World War. See our page for advice on how to get started, which records are available for those who died, their Service Records and Medal Records and what information these records can offer:
For information about tracing a British First World War soldier go to our page at:
Official Histories: Military Operations
Most of the nations involved in the First World War published an official account of the involvement of their military forces. These official publications usually comprise numerous volumes and can be a great help to family historians looking to trace the place of action of a serviceman. In some cases they are now available in print, on DVD. The Canadian and Australian WW1 Official Histories are available to view online.
Official Histories of the First World War
Regimental Histories
There are also many published histories for regiments, battalions, divisions, corps and armies. Generally written after the First World War they were compiled using War Diaries and personal accounts of the men who served in that unit, together with other various official sources. Some may be more lavishly illustrated with photographs and maps than others. Some were published privately and may essentially reflect the views of the author. Some published personal experiences of life in the 1914-1918 war have become known as the unofficial records of a regiment or battalion.
The Imperial War Museum London has an unrivalled collection of printed books which include regimental histories. If you wish to find out whether a regiment you are interested in published a history and obtain the details of the title you can search the IWM Collections online or contact the museum to make an enquiry. Go to our page about the Imperial War Museum for the link to the IWM Collections Search:
Imperial War Museum: Collections Search
Orders of Battle
An Order of Battle is a list of an Army and its units as a structure of command before a battle. The units are listed in order of seniority. This list can be very useful to find out whether a particular unit was involved in action at a certain time. The listing will provide confirmation as to which division, corps and Army the unit was serving with at that time.
For more information about the Orders of Battle and where to find records of these go to our page at:
War Diaries
British Army War Diaries were documents written as a daily account of a unit on Active Service or as an Intelligence Report. War Diaries can provide a valuable insight into the activities and locations of a particular unit and can offer information at a level of detail not available in Official Histories or regimental histories.
For more information about War Diaries, what sort of information can be found in them and where to view them, go to our page at:
WW1 British Army War Diaries
Battlefield Guidebooks and Tours
One of the first guidebooks to the Western Front battlefields published before the end of the war in 1917 by the Michelin tyre company.
There is a wide range of guide books for researching and visiting the 1914-1918 battlefields of the Western Front. Tours ranging from day trips to individual bespoke visits are also available to book from the United Kingdom or on the battlefields.
For more information go to our pages at:
Guidebooks for the WW1 Western Front Battlefields
WW1 Battlefield Tour Companies and Guides
Military Museums and Archives
Some military museums contain unrivalled collections of the histories of military units in the First World War. The larger museums may also hold copies of military unit histories of other national forces. Museums dedicated to a specific part of the services, such as medical services, will likely have well stocked reference libraries focusing on that special subject.
For a listing of military museums in the United Kingdom, Australia, Belgium and France see our page at:
Resources for Teachers and Students
A variety of resources are available for teachers and students for the study of the Great War of 1914-1918. Our information page gives links to museum education departments, exhbitions and online resources.
WW1 Education Resources for Teachers
Trench Maps
Detail from British Army trench map no. 28 N.E.3. (trenches corrected to 24-10-17) showing Fitzclarence Farm in the Ypres Salient.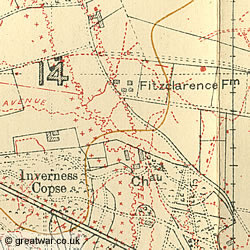 A Trench Map is the name given to the maps used in the Theatre of War by the British Armed Forces during the First World War. Within the first few months of the war the British Army was producing maps for the fighting front to show the detail of the enemy trench lines, enemy positions and topographical information about the landscape. Most of the Front Line occupied by the British Army and its Imperial Forces was mapped to the scale of 1:20,000 and 1:10,000.
There are collections of surviving Trench Maps held in military and public archives which can be viewed and studied. Some collections have been reproduced on DVD and some are available to buy as reprints. When trying to follow in the footsteps of a serviceman, finding a Trench Map of the area where a particular unit was in action is a very good way of finding out the exact location down to the nearest few metres or yards, of where he was.
See our page on Trench Maps for detailed information about the maps and places where collections can be viewed:
WW1 Societies, Associations and Remembrance Projects
The Thiepval Database Project aims to find details for the 72,000 officers and men commemorated on the Thiepval Memorial to the Missing.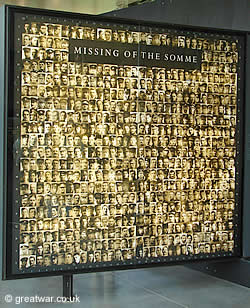 There are a number of associations and societies which exist to further the aim of Remembrance of the First World War and those who fought in it on all sides. These organizations include those which promote the study of the subject, focus on particular specialisms within the Armed Forces or bring like-minded people together to learn and Remember.
In particular, members of military history associations can be contacted. Often there are experts in these groups, both amateur and professional, who have made it their life's work to study a particular military unit, a specific battle, military uniforms and medals or the impact of war on the home front. Members are often scattered all over the world but can usually be contacted through a website, discussion forum or journal.
WW1 Societies, Associations and Remembrance Projects
Events & Exhibitions
A page listing some of the WW1 related events going on in the United Kingdom and on the battlefields of the Western Front is provided on this website. These events include exhibitions, lectures, plays, ceremonies and special memorial events.
WW1 Exhibitions, Conferences, Lectures & Commemorative Events
Other Sources of Information for Family Historians
Church Records and Memorials
War Memorial in Bracknell, Berkshire.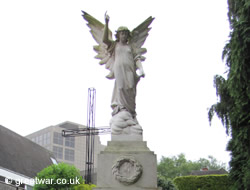 Other possible sources of information can be names on a local war memorial in a town or church. There may be a Book of Remembrance held in a church or memorial plaques dedicated to individuals.
A national inventory of war memorials in the United Kingdom is held by the Imperial War Museum (London) with a database of the war memorials and memorial plaques. The project includes the names of those on the memorials. See our page for more information:
War Memorials Register (United Kingdom)
Family History Society
If you are looking into a specific town or local area you could try contacting members of a local history society.
Newspaper Archives
Often the local newspapers of the day carried pages of photographs of those who had joined up to serve in the military, and sadly, those who would not be returning home. A local newspaper may have an archive or copies would be held in a national newspaper archive collection.
School Archives
Some schools kept records of pupils who joined the forces. The school library may have a Book of Remembrance, a Roll of Honour or a memorial plaque to pupils and staff who were killed in 1914-1918.
Census Records
Census records can be examined for England, Scotland, Wales, the Channel Islands and the Isle of Man for each decade from 1841 to 1911. These records can be very helpful to find out information about families, where they were living, their ages, occupations, and birthplace.
Related Reading
Family History and Ancestors in the Military
Army Records: A Guide for Family Historians (Paperback)
by William Spencer
Published by The National Archives; illustrated edition edition (29 Feb 2008), 160 pages, ISBN-10: 1905615108 and ISBN-13: 978-1905615100
Tracing Your Army Ancestors (Paperback)
by Simon Fowler
Published by Pen & Sword Books Ltd (17 Aug 2006), 192 pages, ISBN-10: 1844154106 and ISBN-13: 978-1844154104
Who Do You Think You Are?: The Essential Guide to Tracing Your Family History (Paperback)
by Megan Smolenyak
Published by Penguin Books (28 Dec 2010), 224 pages, ISBN-10: 0143118919 and ISBN-13: 978-0143118916
Census: The Expert Guide (Paperback)
by Peter Christian and David Annal
Published by The National Archives (2 Sep 2008), 256 pages, ISBN-10: 1905615345 and ISBN-13: 978-1905615346
The Genealogist's Internet (Illustrated paperback)
by Peter Christian
A best-selling guide to resources available to family historians online. Published by The National Archives; 4th edition (27 Feb 2009), 402 pages, ISBN-10: 1905615396 and ISBN-13: 978-1905615391
Useful Links
The National Archives, Kew, Surrey
Website: www.nationalarchives.gov.uk
Ancestry.co.uk
Website: www.ancestry.co.uk
Findmypast.co.uk
Website: www.findmypast.co.uk
Forces War Records
Website: www.forces-war-records.co.uk