WW1 Articles
Visiting the Western Front Battlefields
The Menin Gate Memorial to the Missing, Ypres, focal point for many travellers to the WW1 battlefields.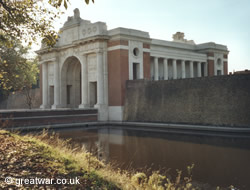 People travel to the First World War battlefields in Belgium and France for various reasons. It may be to visit the grave or memorial of a relative, to attend a special ceremony commemorating an anniversary or battle action, or it may be to learn more about the people who lived through the experience of this most devastating war. This article offers advice and suggestions for travel with an organized tour or as an independent traveller. It should be especially helpful for visitors wanting to make a trip to the battlefields for the first time.
Visiting the WW1 Western Front Battlefields
Story of the Remembrance Poppy
Poppies on the Somme battlefield.
This is the story behind the internationally recognized symbol of Remembrance of the red field poppy. Through the inspiration of an American woman, Moina Michael, and a Frenchwoman Anna Guérin, this delicate flower has become synonymous with the Remembrance of those who lost their lives in war.
The Story of the Remembrance Poppy
Battle Remains on the Western Front
Lochnager Mine crater, Somme battlefield.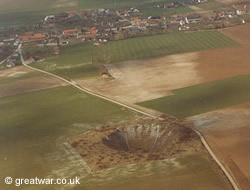 An article discussing the sorts of battle remains to be found on the Western Front. This includes bunkers, shell holes, trenches and the assorted ammunition still being dug up by farmers as they plough the fields more than 90 years later.
Battle Remains on the Western Front
German Military Burials in Belgium
German military burials in a Belgian churchyard on the Western Front. (1)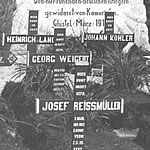 By the end of 1918 there were thousands of German soldiers buried in 678 districts of Belgium. This article explains why they were exhumed and reintered in collecting cemeteries so that the German war dead of 1914-1918 could be cared for on Belgian soil.
German Military Burials in Belgium
War Graves for WW1 Dead on The Western Front
Battlefield burial marked with a cross inscribed as "Inconnu" - unknown. (2)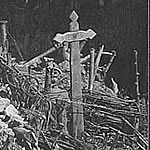 From the early weeks of the fighting on the Western Front the number of war dead was already rising into the tens of thousands. This text gives the background to the burial of military dead in individual marked graves from the 1914-1918 war and why, ironically, so many of the casualties are still recorded as "Missing".
War Graves for WW1 Dead on The Western Front
Acknowledgements
(1) and (2) Original photographs courtesy of the late Bridgeen Fox (private collection).