Trace a WW1 British Soldier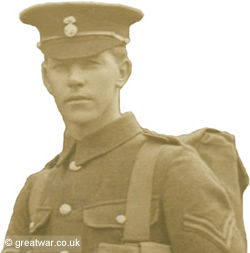 If you are researching your family history you may discover that one of your ancestors was a soldier, sailor or airman who served with the British and Commonwealth Armies in the Great War of 1914-1918. If you are lucky you may have found a photograph, medals, diaries or letters belonging to your relative. Often there may just be a story passed down through the family about a family member having been in the First World War.
Even with a small amount of information to start with it can be possible to at least find out a general overview of a person's 1914-1918 military service. Sometimes the luck of finding an unexpected piece in the puzzle can lead to being able to follow in their footsteps to and finding oneself within a few metres of where they were in action.
WW1 Military Records and Archive Resources
Over the last few years a wealth of resource material has been made available for tracing individuals and the British or Commonwealth military units with which they served in World War One. Some records are now available online to download free, for a fee or by subscription. Military museums and libraries, national archive collections, newspaper and photograph libraries, census records, town archives, village memorials, memorials in churches are sources which possibly will help point you in the right direction.
If you have a name for your ancestor and nothing more, it is still likely that you will be able to find some information, although, of course, the more details you have, the better. Sadly, sometimes it can be easier to trace a relative in the war of 1914-1918 if he was a casualty as his death will be recorded with the details of his military unit, date of death and location of burial or commemoration. As a result of enemy bombing on London in the Second World War, two thirds of the service records of 1914-18 servicemen were burnt beyond rescue and the information was lost. The details of when the person signed up for military service, his service record and the military units he served with may be more difficult to confirm.
With regard to starting from scratch for a serviceman and his military service in the First World War the first question to find an answer to is whether he died in the war. If this can be confirmed, then it will usually provide enough detail to tell you which unit he was serving with and should provide a regimental number, helping you to confirm his identification when you look at other military records.
There are two searches you can make to get started in the search for a First World War serviceman and both are available online.
Search 1: Did the Serviceman Die in the War?
Gordon Cemetery on the Somme battlefield.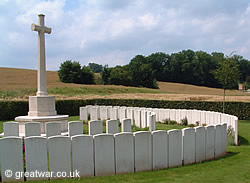 This search is free and available online.
The record of a location of a grave or memorial inscription will be held by one of the War Grave Agencies responsible for the care of military graves according to the nationality or military force served with for the serviceman or woman. The details provided may vary depending on the War Grave Agency, but you should be able to find at least the date of death, the location of the burial or commemoration in a military cemetery, a civilian cemetery or an official memorial, together with the grave or memorial reference. In some cases, you will also find details of military unit at the time of death, a regimental number, age and next of kin.
Ifyou think or are certain he may have died this should be your first search. In most cases the records are available to search online for free.
For information on the British and Commonwealth War Grave Agency go to our page on the Commonwealth War Graves Commission:
Commonwealth War Graves Commission
Search 2: What Medals was the Serviceman Awarded?
British campaign medals: 1914-15 Star, British War Medal and Victory Medal. These were often known by their nickname after the war of "Pip, Squeak and Wilfred".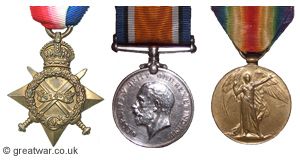 This search is available online from two sources:
either a free search with a chargeable download
or a search and download by subscription.
Every individual who entered a theatre of war on active service in the First World War was issued with one, two or three campaign medals. The lists of those individuals eligible for a medal are called the Medal Rolls and are ordered by military units with a reference number for the issue of the medal. An index of all the medals issued ordered by person was created using the references from the medal rolls. This index is known as the Medal Index Card collection or the Medal Rolls Index.
The Medal Index Cards are the place to search for a name. The card will also confirm details including regimental number, miltary unit and medals issued. Cards usually include the date when the individual entered a theatre of war on active service if that date was before 1916. Occasionally the cards have additional personal information on the reverse.
For information about British WW1 Medal Record Cards and where to view them go to our page at:
British WW1 Medal Records 1914-1920
Search 3: Is there a Service Record?
Approximately 40% of the First World War Army Service Records survived the Second World War bomb damage. Those that did survive have been digitized and can be searched. See our page on Service Records for more information:
British Army WW1 Service Records (Soldiers)
British Army WW1 Service Records (Officers)
Useful Links
Commonwealth War Graves Commission
Website: www.cwgc.org
The National Archives, Kew, Surrey
Website: www.nationalarchives.gov.uk
Ancestry.co.uk
Website: www.ancestry.co.uk
Findmypast.co.uk
Website: www.findmypast.co.uk
Forces War Records
Website: www.forces-war-records.co.uk
Naval & Military Archive
Website: www.nmarchive.com
Related Service
Photographs Forever: Photo Restoration and Photograph Retouching
Restore and preserve your precious WW1 photographs. Leading photograph restorers Photographs Forever provide a quality Photo Restoration, Photo Retouching Service and Photo Editing Service. Your photographs will be scanned in high resolution, they will be restored and digital files and/or fresh new prints of your old photographs can be provided. See the website for more information:
Website: www.photographsforever.co.uk