Thiepval Database Project
Photographic and Biographical Database
Panel with 600 photographs of some of the 72,000 officers and men commemorated on the Thiepval Memorial to the Missing.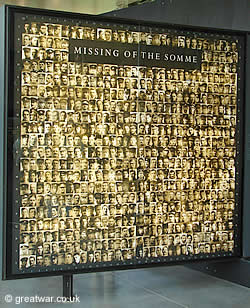 One of the display panels within the Thiepval Visitor Centre features photographs of some of the men who are commemorated on the memorial. The panel was created in 2004 and consists of 600 head and shoulders pictures which were selected to provide a fair representation of the 72,000 on the memorial.
The photographs and biographical information on each of the individuals are held in a computer database. This was created in 2004 by Pam and Ken Linge and is designed to supplement the limited information currently available in the Commonwealth War Graves Registers. The database is only accessible using the computers located within the Visitor Centre.
Whilst the photographic panel is a fixed part of the exhibition the database continues to grow. Information flows in from individuals and families who want to ensure that their relatives are remembered. In addition, information is provided from people doing wider research into regiments, local war memorials, etc. Pam and Ken also continue with their own research in libraries and other archives.
The intention is that the database will grow and continue to be updated for as long as new information becomes available.
Contact Details
Visitors can browse the biographical database at the Thiepval Visitor Centre.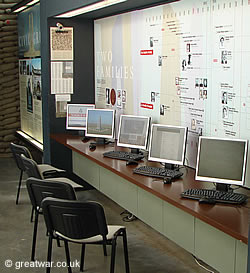 If you have information you would like to share with the project then please send it to:
Email: pam_ken.linge@btinternet.com
Related Topic
Thiepval Memorial to the Missing
Find out more about the memorial, thes design and how the names are arranged:
Thiepval Memorial to the Missing
Related Reading
Missing but Not Forgotten: Men of the Thiepval Memorial - Somme [hardcover]
by Ken Linge and Pam Linge
This excellent book is published after more than 10 years of dedicated research into the men commemorated on the Thiepval Memorial to the Missing. Ken and Pam Linge are behind the Thiepval Database Project and have been collecting biographical information on the missing men since 2003. 288 pages. Published by Pen & Sword Military (2 Sept 2015), ISBN-10: 1473823587; ISBN-13: 978-1473823587
Acknowledgements
Text and photographs of the Panel of 600 Photographs and computers at the Visitor Centre courtesy of Pam and Ken Linge.