Australian War Graves Photographic Archive
The Australian War Graves Photographic Archive (AWGPA) was founded in the year 2000. The aim of the archive is to procure a digital photograph of every single Australian casualty commemorated on a war grave throughout the world. These photographs will be kept on a searchable database for family members and historians and will serve to Remember those who served in the Australian military forces and who paid the greatest sacrifice.
Volunteers are invited to help with the project by way of being a supporter and/or a photographer. The majority of photographs of graves around the world have been taken. However, if you think the archive may not have a photograph please make contact.
The archive is looking to add photographs of local Australian war memorials. Pages on the AWGPA website can be sponsored financially or in kind.
To find out more visit the facebook page at:
facebook: Australian War Graves Photographic Archive
Related Topic
Part of the Villers-Bretonneux Australian National Memorial in France.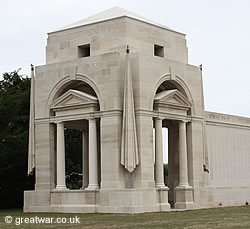 This Australian National Memorial commemorates all Australian soldiers who fought and died in France and Flanders from 1916 to 1918. The names commemorated on the walls of the memorial are for those Australians who died in France and who have no known graves.