The Commonwealth War Graves Commission
A young visitor reaches for the Visitors' Book.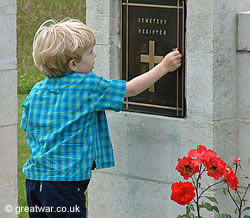 The Commonwealth War Graves Commission, established by Royal Charter in 1917, has a number of responsibilities:
Marking and maintaining the graves of members of the forces of Commonwealth countries who died in both World War One (WWI) and WWII.
Maintaining memorials to the dead whose bodies have no known grave.
Providing records and registers of these burials and commemorations.
In total the Commission is responsible for 1.7 million graves and memorials throughout the world.
Finding a WW1 Grave or Memorial
Cross of Sacrifice, a feature of most British and Commonwealth military cemeteries, at London Road Cemetery & Extension, near Longueval, Somme battlefield.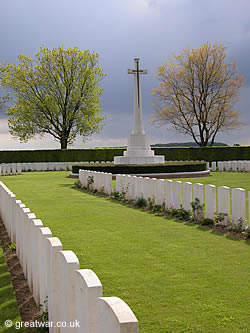 The information held by the CWGC can be very useful for people researching their family history (genealogy) or simply trying to find out more about the recipient of a First World War medal. The details provided by the CWGC can help to locate the actual grave within a cemetery or the name commemorated on a WW1 memorial if you're planning to make a visit.
Search for Casualty or Cemetery Online
You can search online at the Commonwealth War Graves Commission website for all 1.7 million deaths of the Commonwealth forces who died in the two world wars and subsequent conflicts.
The information you will be provided with by the CWGC register will be:
name
initial(s)
nationality
rank
regiment/service
date of death
service number
casualty type
reference for the grave or place of commemoration as a Plot, Row and Grave reference
historical details about the cemetery or memorial
where to find the cemetery or memorial.
The Stone of Remembrance, a feature of most British and Commonwealth military cemeteries, at London Road Cemetery & Extension, near Longueval, Somme battlefield.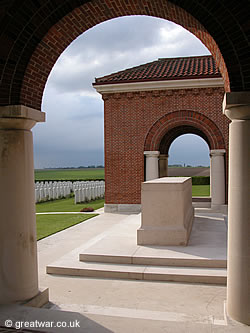 Additional information which may be included on the Register, if it has been recorded by the Commonwealth War Graves Commission, may be the person's military unit (at the time of death), age, and next of kin with an address.
If you only know the surname of the person you are looking for, and it is a common name, you may find that there is a very long list of names to search through. The online search offers an Advanced Search to add in more details which should help to narrow down your search. These details are:
Country commemorated in
Cemetery or memorial
War (First or Second World War)
Date of Death (starting, ending)
Served with Force (United Kingdom Forces, Australian Forces, New Zealand Forces, Canadian Forces, Indian Forces, South African Forces)
Served in Force (Army, Air Force, Navy, Merchant Navy, Civilian War Dead)
Rank
Service Number
Regiment
Secondary Regiment
Honours and Awards
Example of a CWGC Search
Grave of Corporal T H Parker at London Road Cemetery & Extension, near Longueval, Somme battlefield.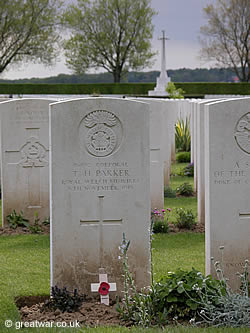 By way of an example, the details provided by the CWGC for Corporal Thomas Henry Parker are as follows:
Name: PARKER, THOMAS HENRY
Rank: Corporal
Service No: 36892
Date of Death: 06/11/1916
Age: 26
Regiment/Service: Royal Welsh Fusiliers, 2nd Bn.
Grave Reference: 1.A.1.
Cemetery: LONDON CEMETERY AND EXTENSION, LONGUEVAL
Additional information: Son of Henry and Fanny E. Parker, of 11, Burnt Hill Lane, Rugeley, Staffordshire.
Link to Search the CWGC Online Register
Graves and summer flowers at Tyne Cot cemetery, Passchendaele in the Ypres Salient battlefield.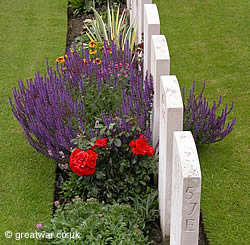 To search the online register of British and Commonwealth war dead go to the CWGC website at:
Website: www.cwgc.org
Grave Location Enquiries by Post, Telephone or Email
Records are held at the Commission's Head Office in Maidenhead. If you cannot find the information you require from an online search you can make an enquiry by post, telephone or email. Generally, traces for a grave will be free for immediate relatives, but others may have to pay a small fee for this service. Contact details for the CWGC are given below.
Visit the CWGC Website
Gordon Cemetery near Mametz on the Somme battlefield.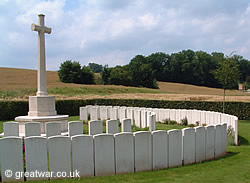 To find out all about the Commonwealth War Graves Commission, its work, learning and educational resources, news and events go to the CWGC website at:
Website: www.cwgc.org
Contact Details for the CWGC
CWGC Head Office
Address: Commonwealth War Graves Commission, Head Office, 2 Marlow Road, Maidenhead, Berkshire SL6 7DX
Telephone: +44 (0)1628 634221
Fax: +44 (0)1628 771208
Website: www.cwgc.org
CWGC Area Offices
Renovations being carried out in 2008 to the grass at London Road Cemetery and Extension, Somme battlefield.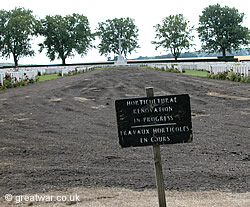 Area offices with responsibility for maintaining the graves of British and Commonwealth forces who died on the battlefields of Belgium and France can be visited. The offices hold a set of registers for the cemeteries and memorials.
Northern Europe Area: Ieper (Ypres)
Address: Commonwealth War Graves Commission, Elverdingsestraat 82, B - 8900 Ieper, Belgium
Telephone: +32 (0)57 20 01 18; Fax +32 (0)57 21 80 14
See our page for the location of the CWGC office in Ieper (Ypres) at:
Commonwealth War Graves Commission Ieper (Ypres) Office
France Area: Beaurains (near Arras)
Address: Commonwealth War Graves Commission, Rue Angèle Richard, 62217 Beaurains, France
Telephone: +33 (0)3 21 21 77 00; Fax +33 (0)3 21 21 77 10
Related Reading
Empires of the Dead
by David Crane
A new book published in 2013 telling the fascinating story of Fabian Ware and his vision for the building of the First World War cemeteries. Shortlisted for the Samuel Johnson prize for non-fiction.
304 pages. Published by William Collins (26 Sep 2013). ISBN-10: 0007456654. ISBN-13: 978-0007456659
Remembered
The History of the Commonwealth War Graves Commission by Julie Summers, Brian Harris and Ian Hislop
Features images by award winning photographer Brian Harris, never before seen photographs from the Commission's own archives and a new history of the Commission by renowned author Julie Summers.
On Fame's Eternal Camping Ground
A Study of First World War Epitaphs in the British Cemeteries of the Western Front by Trefor Jones
Based on five years' research, this book presents more than 1,500 epitaphs on First World War headstones in the cemeteries of Belgium and France. These tributes to young sons, husbands and brothers of that lost generation, buried far from home, provide an eloquent and moving demonstration of the power and beauty of language.
Lutyens and the Great War
by Tim Skelton & Gerald Gliddon
Sir Edwin Lutyens did many works in connection with the First World War; Thiepval memorial on the Somme for example. This book describes the variety of these moving works and the stories behind them.
The Unending Vigil
This book by Philip Longworth tells the Commission's story from its beginnings on the Western Front during the First World War under the direction of Fabian Ware, describing the contribution made by the architects, sculptors, engineers, horticulturalists and men of letters who combined to create the war cemeteries and memorials that are so familiar today.
Related Topics
The largest French military cemetery in the world, with 40,057 casualties buried, at Ablain St-Nazaire (Notre Dame de Lorette) cemetery on the Artois battlefield.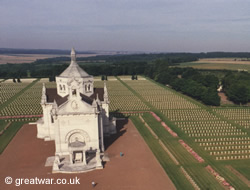 War Graves for WW1 Dead on The Western Front
Read our article about the task of burying and commemorating those killed in unprecedented numbers on all sides in the First World War as a result of the battles on the Western Front.
War Graves for WW1 Dead on The Western Front
Research a WW1 Ancestor
For information about getting started and where to find military records, research resources and archives for First World War research see our index page at:
WW1 Research and Sources of Information
British First World War Medals
To see our information about WW1 medals see:
British First World War Medals
Visiting the Western Front Battlefields
For information about sites to see and places to stay on the battlefields on the 1914-1918 Western Front see our page at:
Visiting WW1 Western Front Battlefields
Acknowledgements
The Commonwealth War Graves Commission (CWGC). For information about the Commission and its work caring for the graves and memorials of British and Commonwealth Forces around the world visit the website:
Website: www.cwgc.org