War Memorials Register (UK)
The War Memorials Register (UK) is held at the Imperial War Museum London. It is a register containing the location and details of more than 100,000 war memorials in the United Kingdom from all conflicts, ranging from a small plaque on the wall to a large town memorial.
The War Memorials Register was formerly named the UK National Inventory of War Memorials.
Search for Memorials
1914-1918 and 1939-1940 War Memorial (in its temporary location prior to being restored and moved back to its original location) to remember the men from the town of Rugeley in Staffordshire.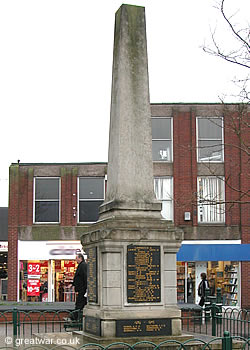 Using the online search facility provided by the War Memorials Register it is possible to search for a memorial using a simple or an advanced search. The results provide helpful information about the current location of the memorial by building and street plus an Ordnance Survey map reference. You can also find out information relating to whether it was moved from a previous location and the reason why. The search result will show what type of memorial it is and what it is made of. A general inscription on the memorial will be provided in the search result, with the number of those commemorated, whether they returned or died, and the nature of the details inscribed for each of those individuals, for example whether they are named by surnames and ordered alphabetically.
The names of those on a particular United Kingdom memorial are now available.
Information relating to the memorial that is provided by the online search includes:
Total names on memorial
Number of those who served and returned
Number of those who died
Whether it is an exact count
How are the names are ordered
The information also listed on the memorial
Names on the memorial
Names of some of the 117 men who fell in the 1914-1918 war on the Rugeley town memorial in Staffordshire.

Search the War Memorials Register
Visit the War Memorials Register page on the Imperial War Museum website:
Website: www.iwm.org.uk War Memorials Register Search
Related Topics
Tracing World War 1 Family History
Corporal Thomas Henry Parker, 2nd Battalion Royal Welsh Fusiliers, killed in action on the Somme battlefield and commemorated on the Rugeley town War Memorial in Staffordshire.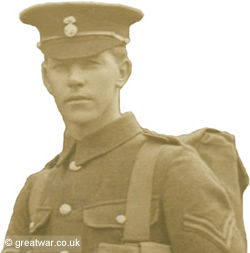 For information about how and where to find records for research into family history see our section of pages at: