WW1 Battlefield Tour Companies and Guides
There are many individual guides and organizations offering a wide range of tours to the WW1 battlefields. Tours are available to suit all budgets, as all-inclusive packages or as tours and specialist guides for visitors once arrived in the battlefield areas. Tours may vary in length from half day visits to several days. Transport can range from using your own vehicle, bicycle or motorbike, to a minibus or full sized coach. Accommodation may be included as a package or can be arranged by you independently.
Most tours will cover the main sites of interest offering first-time travellers an introduction to the subject, and some tours will offer specialist detail on particular themes with accompanying expert military historians. You may have the opportunity to "walk the ground" on a study tour. In many cases a bespoke tour will be available to offer a personalized visit to the war grave of a relative or a specific place of action for family historians. Do remember to give your guide plenty of notice if you wish to do this!
Whichever way you choose to visit the battlefields, it is sure to be a fascinating and a thought-provoking experience. Many of the experienced guides now taking people to visit the 1914-1918 battlefields began their own interest in the subject with a visit to see where a relative was in action.
Tour Companies and Guides
Members of a battlefield tour lay wreaths at the 41st Division Memorial at Flers on the Somme battlefield.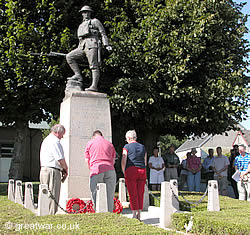 Greatwar.co.uk aims to give an overview of organizations offering tours to the First World War battlefields. Some are all inclusive tours from your point of pick-up, others are based in Belgium or France in the WW1 battlefield regions. There are self-drive tour itineraries, cycling and motorbike tours, rail tours and tours for students to the Western Front battlefields.
Tour programmes will vary from general introductory tours to specialized tours focusing on specific battle actions or themes. We offer lists of companies or individual guides to assist travellers in finding a tour company or guide to suit your specific requirements. You are advised to contact the tour guide or company directly with any enquiry about the tours they offer and ensure that they comply with travel, package holidays and package tours regulations. Greatwar.co.uk cannot be held responsible for a guide or tour company failing to comply with package holiday travel regulations and public liability cover.
Guild of Battlefield Guides (GBG)
greatwar.co.uk is proud to be a Supporter of the International Guild of Battlefield Guides. The aim of the Guild is to raise the understanding and promote best practice for guiding on the battlefields.
The late Lt. Col. Graham Parker, OBE, Retd. and his daughter Joanna Legg organized battlefield tours as Flanders Tours for military, private and public groups from 1980 and 2000. They founded and operated tours as Flanders Tours for 12 of those years. Graham was honoured to have been made an Honorary Member of the International Guild of Battlefield Guides. Joanna is proud to promote the International Guild of Battlefield Guides and its Badged Guides. Members and Supporters are highlighted in our list of guides and tour companies.
Listings of Tour Companies and Guides
Battlefield Tour Companies and Guides (from the United Kingdom)
Battlefield Tour Companies and Guides based in Belgium and France
Cycling Routes & Tours on the WW1 Battlefields
Self-drive Itineraries & Tours of the WW1 Battlefields
Motorcycling Tours on the WW1 Battlefields
WW1 Battlefield Tour Companies for Students & School Groups
Related Topics
Visiting the WW1 Western Front Battlefields
Members of a battlefield tour at the Hill 60 Memorial site on the Ypres Salient battlefield.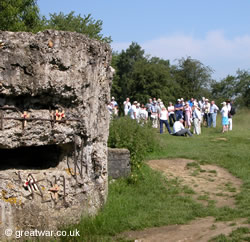 Advice and useful information about travelling, accommodation and tourist information for visitors to the Western Front battlefields:
Visiting WW1 Western Front Battlefields
Battlefields of the Western Front
Pages on the battlefields by area including comprehensive listings and locations of military cemeteries, main memorials, battle remains, museums and accommodation:
The Ypres Salient, Flanders, Belgium
International Guild of Battlefield Guides
The International Guild of Battlefield Guides is for guides with a specialism in battlefield history, providing an organization where guides can meet one another, share information and approaches to the subject. Members of the Guild can take part in an accreditation programme to become a "Badged Guide". For more information see the website:
Website: www.gbg-international.com
Somme Battlefields' Partner, France
The Somme Battlefields' Partner is a new network for visitors to the Somme, where local professionals involved in tourism and the history of this battlefield area have come together. The Somme Battlefields' Partner website is at:
Website: www.somme-battlefields.com