French Flanders and Artois Battlefields, France
Battles
Fighting arrived in the region of French Flanders and Artois from late September 1914, within weeks of the outbreak of the First World War. The line of the Western Front was established in this sector with major battles taking place at Armentières, Arras, Aubers Ridge, Bullecourt, Festubert, Fromelles, Loos, the Lys, Neuve Chapelle and Vimy Ridge.
Battles of French Flanders & Artois
Battle Remains
There are two sites where battlefield remains, including trenches, tunnels and mine craters, can be visited:
Battle Remains in the French Flanders & Artois Battlefields
Monuments & Memorials
In addition to numerous memorials to individual military units, this battlefield area has several national memorials dedicated to thousands of servicemen who died and who have no known grave.
French Flanders and Artois Monuments & Memorials
Cemeteries
The battlefields of French Flanders are the resting place of many thousands of Allied and Imperial German troops. The military cemeteries for the British and Commonwealth casualties number over 300. This area includes Ablain St. Nazaire "Notre Dame de Lorette", the largest French military cemetery in the world, and the largest German military cemetery for 1914-1918 casualties in France at Neuville-Saint-Vaast named "Maison Blanche".
French Flanders & Artois Cemeteries
Museums
There are several private and public museums and visitor centres with unique collections and experiences for visitors to the French Flanders and Artois battlefields.
French Flanders & Artois Battlefield Museums
Events
Ceremony to mark the start of the reburials in Pheasant Wood Cemetery, February 2010. CWGC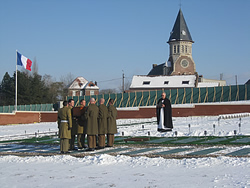 Commemorative events and exhibitions for the Remembrance of the First World War are held for annual or special anniversaries of battles or in relation to particular monuments or memorials.
French Flanders & Artois Events
Accommodation
For visitors wanting to stay in the area on a short break or longer holiday see our listings of suggested accommodation:
Tourist Offices
Find out about local attractions from the region's tourist information offices.
Towns & Villages
Location and brief description of the towns & villages which feature on this battlefield sector.
Acknowledgements
CWGC Photograph courtesy of Commonwealth War Graves Commission:
Website: www.cwgc.org Remembering Fromelles