37th Division Memorial, Monchy-le-Preux
37th Division memorial commemorating the division in battle at the Battle of Arras, April 1917.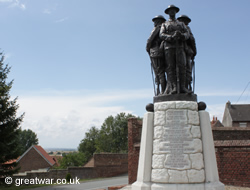 The memorial commemorates the part played by the 37th Division in the First Battle of the Scarpe (9 - 14 April 1917) during the Battle of Arras. The division was serving in the VI Corps in the British Third Army. 37th Division captured the village of Monchy-le-Preux on 11 April, the third day after the launch of the offensive against the German line.
Text on the memorial includes the units making up the division and the battle honours of the division in France and Flanders from its first engagements on the Western Front during the Battle of the Somme 1916.
The memorial was built on the summit of the hill where the village is located. Views from the memorial look to the south-west across the plain towards Arras. This was the dominating view across the Allied lines from the village, which was in German occupied territory from the end of August 1914.
37th Division Memorial Location
The memorial is located on the Rue du Tilleul where it meets the Rue de Chaussy in the centre of the village of Monchy-le-Preux. It is about 100 metres west of the church. It is advisable to park near the church and the Newfoundland Caribou Memorial and to walk to the memorial, as it is on a bend in the road.
Related Topic
For a listing and photographs of memorials in this battlefield area see our page: