Faubourg d'Amiens Cemetery, Arras
There are 2,650 First World War casualties buried in the cemetery. 10 of these burials are unidentified.
Origins of the Cemetery
Main entrance to Faubourg d'Amiens Cemetery, Arras.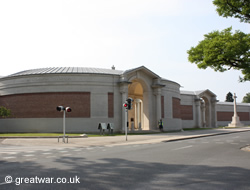 A cemetery in this location was begun by the French Army from late in 1914. The French burials were located in the northern sector of the current cemetery site, and they were removed after the end of the war.
The Arras Memorial and the Arras Flying Services Memorial were built on the ground at this site where the French military graves had been.
The British Arrive from March 1916
View of the Cross of Sacrifice through the arch of the Arras Memorial at Faubourg d'Amiens Cemetery, Arras.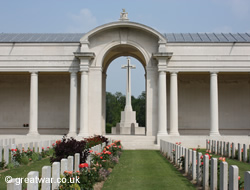 In March 1916 the British Army moved into this sector of the Western Front, which included Arras, and British burials were laid to rest here from that time.
The cemetery was used by the British and Dominion Forces until the end of the war in November 1918. After the Armistice more graves were brought into the cemetery from outlying battlefield burials and two cemeteries nearby.
Design
Detail of sculpture at Faubourg d'Amiens Cemetery, Arras.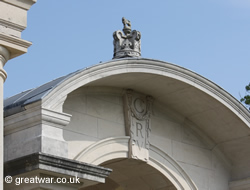 The cemetery, the Arras Memorial and the Arras Flying Services Memorial were designed by Sir Edwin Lutyens.
Sculpture at the cemetery and memorials was by Sir William Reid Dick.
Arras Memorial Location
Latitude N 50° 17' 13 " ; Longitude E 2° 45' 35"
The Faubourg d'Amiens Cemetery is in the west side of the city of Arras. It is on the western stretch of the inner ring road Boulevard du General de Gaulle. It is also located close to the Citadel fort.
Parking
There is designated parking for a few cars close to the main entrance. Alternatively a large, new public car park (for cars) opposite the memorial is also available in the event that the designated vehicle spaces are full.
Access
The cemetery is accessible to the public daily and there are no opening hours.
There is a gate for wheelchair access on the western (rear) side of the cemetery.
Related Topics
See our pages on two memorials to the missing which are also located at this cemetery site:
Arras Flying Services Memorial
Acknowledgements
(CWGC) Plan of the Arras Memorial courtesy of the Commonwealth War Graves Commission.
Website: www.cwgc.org