9th Scottish Division Memorial, Point du Jour
9th Scottish Division memorial.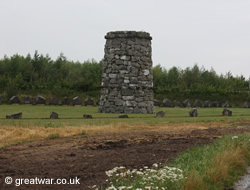 The memorial commemorates the part played by the 9th Scottish Division in the Battle of Arras on 9 April 1917. The division was serving in the XVII Corps in the British Third Army. The 9th (Scottish) Division was on the right wing of the XVII Corps attack, with the 4th, 34th, 51st Divisions to its left. The Canadian Corps was over on the far left of these British divisions at the Vimy Ridge. The VI Corps was on the right of the 9th Division on the southern side of the the Scarpe river.
Point du Jour was the name of a house on the road between St. Laurent-Blangy and Gavrelle. In German occupied ground it had been fortified into a redoubt by the time the British attacked the area in April 1917. On 9 April 1917 the house called Point du Jour was captured by the 34th Division.
Unveiling
Memorial stones commemorate each battalion of the 9th Scottish Division.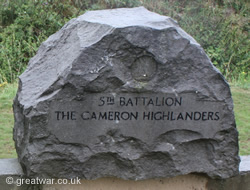 The memorial to the 9th Scottish Division was unveiled on 9 April 1922, the fifth anniversary of the battle. It was originally located on a site which later had the carriageways of the D950 dual carriageway built either side of it. In 2006 it was moved stone by stone a few hundred metres to the south side of the westbound carriageway of the D950. This was considered to be a much safer site for visitors, and it is now situated next to the Point du Jour British Military Cemetery.
In addition to the battle honours of the division in France and Flanders the text of remembrance inscribed on the memorial reads:
Inscription on the 9th Scottish Division memorial.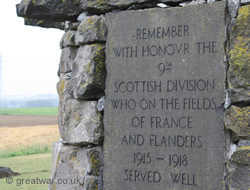 REMEMBER
WITH HONOUR THE
9th SCOTTISH DIVISION
WHO ON THE FIELDS
OF FRANCE
AND FLANDERS
1915-1918
SERVED WELL
9th Scottish Division Memorial Location
The memorial used to be located between the two carriageways of the D950, but has now been moved to a location next to the Point du Jour British Militay Cemetery north of the village of Athies. From the main road through Athies, the Rue d'Arras, follow the Commonwealth War Graves Commission sign at the Rue de Chauffour for the Point du Jour British Military Cemetery. This road will take you through the north side of the village. The road becomes a single track road and after leaving the village in about 600 metres you will reach the memorial and the military cemetery.
(Please note that the aerial image of the memorial on the location map does not show the memorial in its new location next to Point du Jour military cemetery.)
Related Topic
For a listing and photographs of memorials in this battlefield area see our page: