V.C. Corner Australian Cemetery & Memorial, Fromelles
This is the only cemetery on the battlefields of the Western Front in which only Australian soldiers are interred.
VC Corner Australian Cemetery.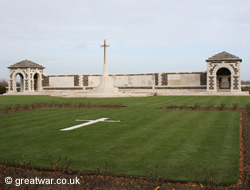 The cemetery was established after the end of the First World War. The remains of 410 Australian soldiers were brought here from the surrounding battlefield area. At that time none of these soldiers could be identified except that they were Australian and believed to have been killed during the Battle of Fromelles in July 1916.
It was decided to inter these unknown Australians in this cemetery without headstones. The names of Australian soldiers missing in action and known to have been killed during this battle were inscribed on the memorial wall at the north-eastern end of the cemetery.
Some Missing Soldiers Identified
Names on the wall at VC Corner Cemetery commemorating some of the missing Australian soldiers.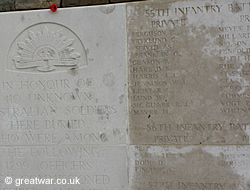 In 2010 a new cemetery nearby at Fromelles village was dedicated at a ceremony on 19th July 2010. This cemetery was established following the discovery in 2007 of a lost burial site containing the remains of some 400 Australian and British soldiers, buried by the German Army after the battle. Of the re-discovered soldiers in the burial pits at Fromelles village a number of the missing Australians named on the wall at V.C. Corner Cemetery have now been identified by DNA processing and reburied in marked graves at the new Fromelles (Pheasant Wood) Military Cemetery.
V.C. Corner Cemetery Location
V.C. Corner Cemetery is located on the D22C Rue Delval north-west of Fromelles village, on the road leading to Sailly-sur-la-Lys.
Latitude N 50° 37' 9" ; Longitude E 2° 50' 0.8"
Related Topics
Fromelles (Pheasant Wood) Military Cemetery
The new cemetery dedicated in 2010, and where the remains of Australian and British soldiers discovered in a number of burial pits have been reinterred.
Fromelles (Pheasant Wood) Military Cemetery
Related Link
The Australian Remembrance Trail: France and Belgium
Australian visitors may be interested to see a website established by the Australian Government which provides information about the major sites to visit in France and Belgium where the Australian forces fought and where they are commemorated.
Website: www.ww1westernfront.gov.au Australian Remembrance Trail
Acknowledgements
Commonwealth War Graves Commission