Canadian Cemetery No. 2, Neuville-St.-Vaast
There are almost 3,000 First World War casualties buried in the cemetery, which is located in the Canadian National Vimy Memorial Park. 820 of the burials are identified casualties.
The Canadian Corps set up this cemetery after the attack on the Vimy Ridge during the Battle of Arras on 9 April 1917. In addition to the Canadians buried here after the battle on the ridge, for some time after the end of the war graves of British and Commonwealth servicmen were brought in for burial in the cemetery from battlefield burials made on the battlefields nearby. This will account for the reason why over 2,000 of the casualties are unidentified.
The cemetery covers an area of 10,869 square metres.
There are 29 Canadian soldiers who have special memorial headstones in this cemetery. They were originally buried in the 11th Canadian Infantry Brigade Cemetery, Givenchy-en Gohelle and the Canadian cemetery near Gunner's Crater, Givenchy-en-Gohelle. Their original graves were lost. Their headstones are inscribed with the words: "Their Glory shall not be blotted out".
View of the Notre Dame de Lorette Ridge
Looking north-west from the cemetery towards the chapel and Lantern Tower at the Notre Dame de Lorette French military cemetery on the opposite ridge.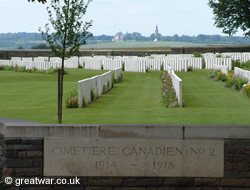 The view in the photograph is taken from the cemetery looking to the north-west with a zoom lens, shows the high ground of the ridge of Notre Dame de Lorette on the horizon and the chapel and Lantern Tower in the French military cemetery. Hidden in the valley, which lies between the cemetery and the Notre Dame de Lorette ridge, is the village of Souchez and the A26/E15 Calais-Arras motorway.
Canadian Cemetery No. 2 Location
Latitude N 50° 22' 38" ; Longitude E 2° 45' 51"
The cemetery is located in the Canadian National Vimy Memorial Park. The Park is near the village of Vimy about 5 miles (8 kilometres) north-east of Arras on the N17 to Lens. Just south of the village of Vimy the memorial is signposted.
(Note that the aerial image of the Vimy Memorial nearby to this cemetery on the location map includes the scaffolding for the renovation work which was completed in 2006.)
Related Topic
The other one of the two military cemeteries situated in the Vimy Memorial Park is close by:
Givenchy Road Canadian Cemetery
Acknowledgements
Data by kind permission of the Commonwealth War Graves Commission
Website: www.cwgc.org