Self-drive Itineraries & Tours of the WW1 Battlefields
Travellers wishing to tour the battlefields independently by car, motorbike, motorhome or bicycle can do so with help from specific itineraries drawn up by an expert guide to the WW1 battlefields.
Visiting the Australian 1st Division Memorial on the Somme battlefield.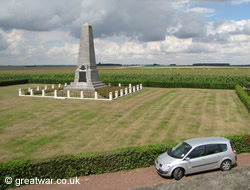 The organizations listed here either offer itineraries and route information to download for your self-drive independent travel to the battlefields, or there are companies which will create tour itineraries and arrange accommodation for you.
Any company listed on greatwar.co.uk is offered to help travellers to the battlefields find a tour company or guide to suit specific requirements. You are advised to contact the tour guide or company directly with any enquiry about the tours or itineraries they offer. Where appropriate you should ensure they comply with any travel, package holiday and package tours regulations. Greatwar.co.uk cannot be held responsible for a guide or tour company failing to comply with package holiday travel regulations and public liability cover.
Self-Drive Battlefield Tour Itineraries
Australian Remembrance Trail: France and Belgium
Australian visitors may be interested to see a website established by the Australian Government called the ANZAC Portal. It provides information about the major sites to visit in France and Belgium where the Australian forces fought and where they are commemorated.
Website: www.ww1westernfront.gov.au The Australian Remembrance Trail
"Circuit of Remembrance", Somme Battlefields, France
Poppy symbol for the Circuit of Remembrance on the Somme battlefields, France.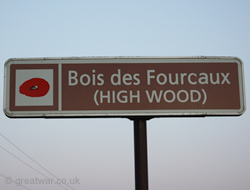 The Somme "Circuit of Remembrance" (also called The Remembrance Trail) has been set up by the organisation called Somme Battlefields' Partner. It is a route of approximately 40 miles in total with 10 stops at important sites between the towns of Albert and Péronne. This is a route that can be followed if you are visiting the battlefields independently. You can either make the visits yourself or, alternatively, there are local guides who can arrange to take you round (there would be a charge for this option). For information about the "Circuit of Remembrance", the location of the main historical sites to visit or recommended guides go to 'The Great War: A Chapter in History' page on the official Somme tourism website:
Website: www.somme-battlefields.com The Great War
Digital Guide to Download: Sites of the First World War (Somme)
For a downloadable guide to the Battles of the Somme, a map and descriptions of the main sites to visit go to this link provided by the official Somme tourism website:
Website: fr.calameo.com Sites of the First World War
Road Trip: The Great War and More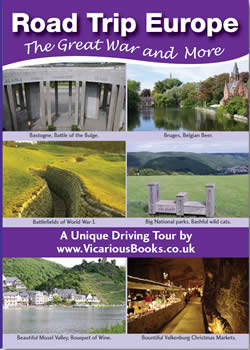 This is the first in a new series of itineraries for self-driving tours from Vicarious Media. The tour includes travel visiting historical locations for the First and Second World Wars, taking in five cities across France, Belgium, Germany and the Netherlands. The tour is suitable for motorbikes, cars, motorhomes and campervans.
For more information, testimonials, features, a sample of the guide and how to purchase it visit the Vicarious Media website:
Website: vicarious-shop.com Road Trip: The Great War and More
Self-Drive Battlefield Tours (Paid-for Arrangements/Itineraries)
Battlefields by 4x4
Telephone: 0701 424 1418 (calls charged at premium rate)
Email: hq@battlefieldsby4x4.com
Website: www.battlefieldsby4x4.com
Battlefield tours led by experienced battlefield guides and qualified off-road drivers, which are specifically designed for owners of standard four wheel drive vehicles. Commentary by your guides is delivered to your own vehicle and an A5 bound booklet will be given to you with photographs and information about the places you are to visit. Every assistance will be given to lead you through spectacular countryside, including off-road driving, and show you the well-known and not so well-known battlefield sites. Most tours are organized over three days, two and a half days of this consisting of driving time.
Tours are based on either pre-arranged itineraries, or a combination of tour destinations, or on a tour customised to your own requirements. Pre-arranged tour itineraries include:
The Somme 1916
Arras 1917
The Tank 1917
D Day 1944 (annual tour in June available from 2015)
Battlefields of the Aisne, Champagne and Meuse in Eastern France to be announced
For more information, bookings and answers to any questions you may have, visit the website:
Website: www.battlefieldsby4x4.com
Somme Battlefield Tours Ltd.
Member of the Guild of Battlefield Guides (GBG)
Telephone: +44 (0)1202 - 880 211
Website: www.battlefield-tours.com
A small company which specializes in Self-Drive tours to the Somme and Ypres battlefields.
Related Topics
Visiting the WW1 Western Front Battlefields
Advice and useful information about travelling, accommodation and tourist information for visitors to the Western Front battlefields:
Visiting WW1 Western Front Battlefields
Battlefields of the Western Front
Gordon Cemetery on the Somme battlefield.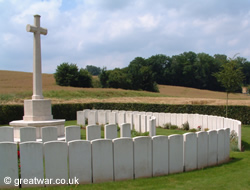 Pages on the battlefields by area including comprehensive listings and locations of military cemeteries, main memorials, battle remains, museums and accommodation:
The Yser Battlefields & the Belgian Coast
The Ypres Salient, Flanders, Belgium
Guidebooks for the WW1 Western Front Battlefields
Recommended guidebooks for visitors:
Guidebooks for the WW1 Western Front Battlefields
Maps for Travel to the WW1 Battlefields
For recommended modern road, cycling and walking maps on the Western Front battlefields, see our page:
Maps for Travel to the WW1 Battlefields
Apps for the WW1 Battlefield Visitor
Apps for the WW1 Battlefield Visitor
Somme Battlefields' Partner, France
The Somme Battlefields' Partner is a network, where local professionals involved in tourism and the history of the Somme battlefield area have come together. Information about the Somme Battlefields' Partner is on the official Somme tourism website at:
Website: www.somme-battlefields.com Somme Battlefields' Partner
Battlefield Tours
Battlefield Tour Companies and Guides (from the United Kingdom)
Battlefield Tour Companies and Guides based in Belgium and France
Cycling Routes & Tours on the WW1 Battlefields
Motorcycling Tours on the WW1 Battlefields
WW1 Battlefield Tour Companies for Students & School Groups
Accommodation