Accommodation on the Western Front Battlefields
Many of the First World War battlefield sites on the Western Front are located in rurual parts of Belgium and France. Nevertheless, there are towns and villages in cloe proximity which provide accommodation for visitors wanting to explore the battlefields.
In the last ten years some battlefield areas, such as the Ypres Salient in Belgium and the Somme battlefields in northern France, have become particularly popular destinations for visitors from Britain, Australia, Canada and New Zealand. For visitors wanting to stay on or near the battlefields our pages below provide information about a variety of accommodation including hotels, bed & breakfast, self-catering, hostels and camping available to suit the requirements and budgets of visitors travelling independently and for tour organizers wanting to book for groups of varying sizes.
Yser/IJzer & the Belgian Coast
Nieuwpoort on the coast at the mouth of the Yser River and Canal.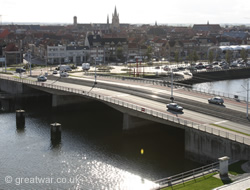 For accommodation in the area see our page:
Accommodation for the Yser/IJzer Battlefields
Ypres Salient Battlefields, West Flanders
The battlefields of the Ypres Salient are in the semi-rural area of West Flanders. The landscape is mainly made up of agricultural small-holdings, fields, small rivers, woods and villages. The city of Ypres is a focal point in the area, offering a range of places to eat, WW1 related sites to visit and places to shop.
There is a good variety of accommodation in and around Ypres, in the nearby towns of Poperinge and Roeselare and in the outlying quiet country areas.
Accommodation in and around Ieper (Ypres)
French Flanders & Artois Battlefields, Northern France
For accommodation in the area of the French Flanders and Artois battlefields see our page at:
Accommodation on and around the French Flanders & Artois Battlefields
Somme Battlefields, Northern France
View across the Ancre valley looking towards Beaumont Hamel on the Somme battlefield.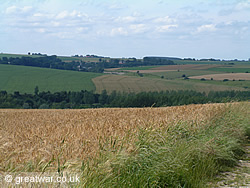 There are hotels to suit all budgets in the cities of Arras and Amiens, which lie to the north and south of the Somme battlefields. There are a few hotels in Albert and Bapaume and a number of self-catering houses and accommodation for bed & breakfast directly on the battlefields.
Accommodation on and around the Somme Battlefields
Related Topics
For information about the places to visit and sights to see on three battlefield areas of the 1914-1918 Western Front see our pages:
Visiting the Ypres Salient Battlefields
Visiting the French Flanders & Artois Battlefields