Accommodation on and around the Somme Battlefields
The battlefields of the Somme in northern France are in a rural location. They are, nevertheless, within an easy 40 minute drive of the cities of Arras in the north or Amiens in the south. Both of these cities offer a good number of hotels to suit all budgets, together with the types of restaurants and shops that one would expect to find in a French city.
View of Chipilly village with one of the many lakes on the banks of the River Somme.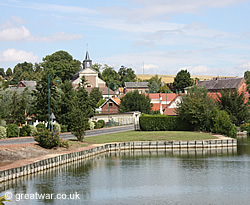 For visitors wanting to stay in close proximity to the Somme battlefields, to enjoy the tranquility of the rolling countryside and the convenience of staying close to the battlefield sites, there are a number of bed & breakfast and self-catering lodgings, hotels and campsites available in the area.
The local towns of Albert and Bapaume, famous names to those familiar with the Battles of the Somme, offer a limited number of hotels, restaurants and shops.
The River Somme in this area is a well-known country weekend destination for French people, with holiday cottages located along the river's edge. The marshy areas and lakes on the river, known as Marais, are popular with fishermen and are a haven for riverside wildlife. There are a number of campsites in this region, many of which are situated close to the River Somme.
Listings and Location of Somme Accommodation
For our listings and location of accommodation suitable for visiting the Somme battlefields see our pages at:
Bed & Breakfast and Self-catering Accommodation for the Somme
Hotels on or near the Somme Battlefields
Hostel on the Somme Battlefields
Camping on the Somme Battlefields
Related Topics
Aerial view of the huge Lochnagar Crater, now a memorial site, blown at the start of the British offensive on 1st July 1916.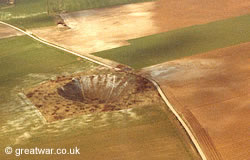 Cafés and Restaurants on the Somme Battlefields
Cafés and Restaurants on the Somme Battlefields
Visiting the Somme Battlefields
See our introduction page about visiting the Somme battlefields in France:
The Somme Battlefields, France
Related Links
A range of accommodation in the Département de la Somme can also be viewed and booked through the following websites:
Website: www.hotels-logis-somme.com
Website: www.uk.gites-de-france-somme.com