Amiens, France
Amiens is the capital of the Département de la Somme. Prior to 2014 it was in the region of Picardie. From 1 January 1916 the Picardie region has formally merged with Nord-Pas-de-Calais and Picardie, thus the region is now called Nord-Pas-de-Calais-Picardie.
Amiens Cathedral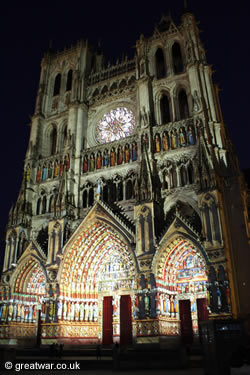 Amiens cathedral is the largest of the Gothic cathedrals of its type in France. It is a UNESCO World Heritage Site. The first cathedral on the site was destroyed by fire and the building now standing on the site was started in 1220.
There are a number of WW1 memorials in Amiens cathedral.
Cathedral en Couleurs - Son et Lumière
For several years a Son et Lumière sound and light show has taken place. It lasts for 45 minutes and begins when darkness falls, after 21.45 hours. It also takes place in December with an earlier start time after dark. The three-dimensional light show projects colour onto the hundreds of statues on the façade of the building.
For information about opening hours, guided visits, audio guides (multilingual) and workshops (UNESCO World Heritage Site) you can visit the following websites:
Website (French): cathedrale-amiens.monuments-nationaux.fr
Website (English): cathedrale-amiens.monuments-nationaux.fr
Website: www.visit-amiens.com
Les Hortillonnages d'Amiens — Floating Gardens
Les Hortillonnages is an area of floating man-made gardens in an area of 300 hectares (about 1.6 miles) on the east side of Amiens at the confluence of the rivers Somme and Avre. Over the centuries this area was established by people farming vegetables and fruit on fertile reclaimed islands of land. The islands are accessed by a network of canals. The name for these canals in the Picardy dialect is "rieux".
A market takes place every Saturday selling vegetables and fruit grown in the Hortillonnages.
Visitors can make a guided trip through the canals on boats called "barques à cornet" or a tour can be made on foot or by bicycle.
For information about the floating gardens you can visit the website:
Website (French): www.hortillonnages-amiens.fr
Alternatively you can visit the Somme Tourism website at:
Website (English): www.visit-somme.com les hortillonnages
Accommodation
There are a privately-run or chain hotels to suit all budgets in Amiens as it is a popular tourist destination. A list of hotels is provided here, or have a look at our listings of B&B, self-catering and hostel accommodation within a range of 25 miles of Amiens:
Hotels on the Somme Battlefields
B&B/Self-catering accommodation on the Somme Battlefields
Hostels on the Somme Battlefields
Alternatively, visit the Amiens Tourist Office website for specific accommodation in Amiens:
Website: www.amiens-tourisme.com accommodation
Eating Out — Restauration
There is a variety of restaurants in and around Amiens. There are bars, cafés and restaurants close to the cathedral. A very popular place with the locals, which is a scenic location with a large number of assorted bars, cafés and restaurants is the riverside Quai Belu and vicinity, which is within a 5-10 minute walk from the cathedral.
You can search for particular restaurant preferences in and around Amiens on the Tourist Office website:
Website: www.amiens-tourisme.com restauration
Related Topics
Visiting the Somme Battlefields