Campsites on or near the Somme Battlefields
There are a number of campsites offering touring pitches for caravans and tents in the area near to the River Somme and the Somme battlefields. The River Somme is a popular destination for weekend breaks and holidays. The list below suggests a number of sites as recommended by the Somme tourism authority. You are advised to contact the camping site directly for further details regarding bookings and amenities.
Related Topics
Chipilly village, which lies on the banks of the River Somme.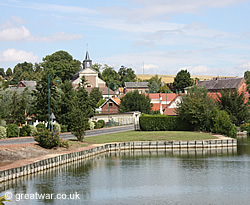 Visiting the Somme Battlefields
Visiting the Somme Battlefields
Accommodation on the Somme Battlefields
Accommodation on the Somme Battlefields
Somme & Picardie Tourist Information
See our information page about tourism contacts and websites for the Somme battlefields in northern France:
Useful Link
Website: www.camping-picardy.co.uk Heritage Campsites