Delville Wood Cemetery, Longueval
The cemetery was built after the Armistice when graves from small burial sites and individual battlefield burial plots were brought here to this site. There are 5,523 First World War British and Commonwealth casualties buried here. Of these 3,593 are unidentified. Most of the burials in the cemetery were casualties who died in the months of July, August and September during the heavy fighting of the 1916 Battle of the Somme.
Delville Wood Cemetery, Longueval.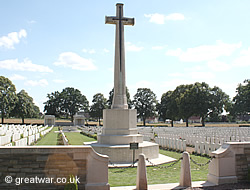 Delville Wood Cemetery is the third largest British & Commonwealth cemetery on the Somme battlefield.
There are special memorials to 27 soldiers who are believed to be buried among the casualties here, but the identity of their graves was lost prior to them being brought to this cemetery. Three soldiers are commemorated on special memorials in the cemetery as their original graves in Courcelette Communal Cemetery German Extension were destroyed by artillery shellfire.
Graves from the following cemeteries and battlefield burial sites in the area were brought to this cemetery:
Angle Wood Cemetery, Ginchy: This battlefield burial site was made in a shell-hole in Angle Wood, north-west of Maurepas. 27 British soldiers had been buried there. They were mainly serving with the London Regiment when they died.
Battery Copse Cemetery, Curlu (located between Curlu and Maurepas): There were 17 British soldiers buried here together with some French graves.
Bazentin-le-Petit German Cemetery (located at the south-east end of the village): There were some German graves and five British soldiers killed in March and April 1918 during the German Spring Offensive.
Courcelette Communal Cemetery German Extension: This burial site next to the original civilian cemetery contained the graves of 1,040 German casualties. There were three British soldiers and one from Canada removed to the Delville Wood Cemetery.
Ferme-Rouge French Military Cemetery, Curlu: This burial site for French casualties was near to Battery Copse Cemetery (see above). One British soldier was buried here and exhumed to Delville Wood Cemetery. He was killed in March, 1917.
Guillemont German Cemetery No.1 (located at the west end of Guillemont village): This burial site contained 221 German graves. Seven British soldiers buried here too and who fell in May and July, 1918 were exhumed and taken to Delville Wood Cemetery.
Lone Ridge Cemetery, Longueval (located between Delville Wood and the centre of Longueval village): This site contained the graves of 52 British soldiers who were killed at the end of August, 1918.
Maricourt (de la Cote) German Cemetery (located on the south-west side of Maricourt village): There were five British soldiers and airmen buried here.
Martinpuich German Cemetery No.1 (located at the north-east end of Martinpuich village): There were six British soldiers and one sailor buried here. They were killed in March 1918.
Martinpuich German Cemetery No.2 (located west of Martinpuich German Cemetery No.1): One British soldier was buried at this German burial site.
Design
Delville Wood Cemetery, Longueval.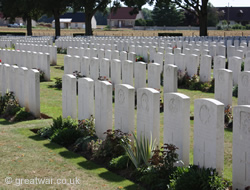 The cemetery was designed by Sir Herbert Baker.
South African Brigade Burials
There are 160 South Africans buried in the cemetery, of whom 65 are not identified. A list of the named South African soldiers and their burial location in this cemetery is provided by the Delville Wood Commemorative Museum Trust on their website at:
Website: www.delvillewood.com
Renovation Work
Reseeding of the grass.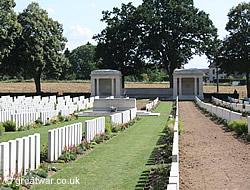 The Commonwealth War Graves Commission is responsible for the care and maintenance of this and many other hundreds of British and Commonwealth cemeteries around the world. Visitors to the cemeteries on weekdays will often see the CWGC staff working in the cemeteries.
At times major work has to be carried out to reseed grass or renew headstones due to deterioration from weather conditions and climate change. Grassed areas in Delville Wood Cemetery were reseeded during 2010.
Location of Delville Wood Cemetery
Latitude N 50° 1' 26" ; Longitude E 2° 48' 46"
The cemetery is located on the south side of the road opposite Delville Wood (Bois Delville) and the Memorial Museum to the South African Forces. It is signposted from the centre of the village of Longueval.
Parking
Visitors can park next to the cemetery or in the nearby large, free car park for the South African Forces memorial museum.
Related Topics
The South Africa (Delville Wood) National Memorial, Longueval
The South Africa (Delville Wood) National Memorial, Longueval
Cemeteries & Memorials on the Somme Battlefield
Cemeteries on the Somme Battlefields
Monuments on the Somme Battlefields
Commonwealth War Graves Commission (CWGC)
For information about the Commission and how to trace a soldier on the Debt of Honour online register see our page at:
Commonwealth War Graves Commission (CWGC)
Acknowledgements
The Commonwealth War Graves Commission
Delville Wood Commemorative Museum Trust: www.delvillewood.com