"Ocean Villas" WW1 and WW2 Museum, Auchonvillers
A rare British WW1 grenade launcher with three Lee Enfield rifles.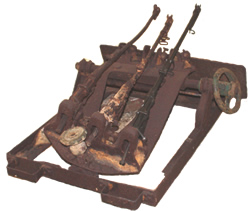 This is a collection of rare and important militaria and memorabilia from the First and Second World Wars, gathered over many years by military historian and collector André Coillot. To prevent the collection from being dispersed Avril Williams purchased it in its entirety and has re-housed it in a refurbished building next to her guest house and tea rooms.
This museum is the only military collection on the Somme battlefields which comprises First and Second World War artefacts. This museum was opened on 1 July 2008 by Major Tonie and Mrs Valmai Holt.
An Educational Venue
Artillery pieces, shells and tools in the collection.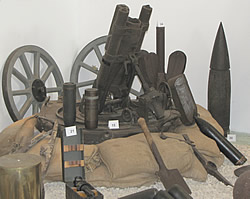 In 1992 Avril Williams and her two children arrived at Auchonvillers and moved into an abandoned farmhouse. Over the past twenty years the family has renovated the farmhouse and it has become well-known as a popular venue for visitors to the Somme battlefields. The village was renamed "Ocean Villas" by the British soldiers after they arrived on this part of the Somme battlefront in the summer of 1915.
Avril and her family named their farmhouse "Ocean Villas" and have expanded the site to comprise numerous educational facilities for visitors, including a venue for lectures, the museum and an orignal section of British trench.
"Ocean Villas" is one of the founding members of the Somme Battlefields Partners and has been awarded with the Bronze Medal for Tourism.
Visitor Information
Opening Hours
A Willy's Jeep in the WW2 collection.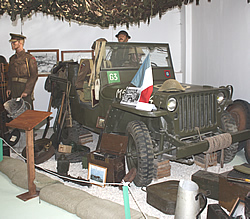 Open daily from 10.00 - 16.00 hours
Admission Charges
Individual
Adult: Euros 5,00
Child over 10yrs old: Euros 3,00
Senior citizen: Euros 3,00
Group (over 20 persons)
Contact Details
A highly detailed scale model of a section of WW1 trench.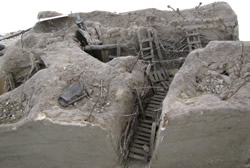 Groups wishing to visit the museum or to use the facility of the group room for talks or meals can contact Avril Williams.
Address: Ocean Villas, 10 rue Delattre, 80560 Auchonvillers, France
Telephone & fax: +33 (0)3 22 76 23 66
Email: avwilliams@orange.fr
Website: www.avrilwilliams.eu
Location of "Ocean Villas" Museum
Latitude N 50 ° 4' 49.015" ; Longitude E 2° 37' 52.229" ; Latitude: 50.080282; Longitude: 2.631175
The museum is located opposite Avril Williams' "Ocean Villas" Guest House and Tea Rooms in the south part of Auchonvillers village. It is approximately 1 kilometre north of Newfoundland Memorial Park.
Related Topic
For a list of museums on the Somme battlefields see our page: