Hotel Accommodation on and near the Somme Battlefields
There are a number of hotels located close to the battlefields of the Somme. The list is arranged in order of star rating.
The hotels featured on this site are intended as a guide to help visitors planning a visit to the area. We advise you to make contact with the hotel directly if you wish to know more details and make reservations.
In the list below click

to show the place on the map or

to expand the details.
Related Topics
Visiting the Somme Battlefields
Looking towards Newfoundland Memorial Park across the Ancre valley from the 1st July 1916 German Front Line.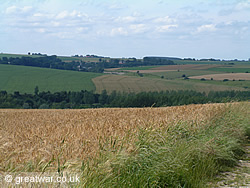 Visiting the Somme Battlefields
Somme & Picardie Tourist Information
See our information page about tourism contacts and websites for the Somme battlefields in northern France:
Related Link
A range of accommodation in the Département de la Somme can also be viewed and booked through the following website:
Website: www.hotels-logis-somme.com