Ulster Memorial Tower Visitor Centre
Artillery shells of various sizes on display at the Ulster Memorial Tower Visitor Centre.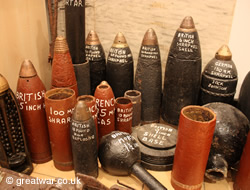 The Visitor Centre was opened in 1994. It is managed by the Somme Association and dedicated to the memory of the men of the 36th Ulster Division who were in action at this place on 1 July 1916.
The display of artefacts, including some very rare items, held by the small museum includes items recovered from the battlefields around the Memorial Tower, and many personal items specifically related to the soldiers of the 36th Ulster Division.
Video Show
A video film explains about the Battle of the Somme for visitors.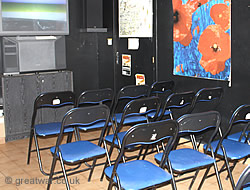 There is a small cinema with a rolling filmshow consisting of archive film and explanations about the Battle of the Somme and the British attack on the German line in the Thiepval sector.
Visitor Information
Refreshments are available at the cafe and small shop.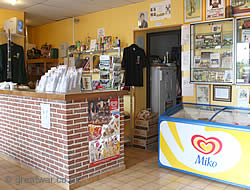 Opening Hours
Tuesday - Sunday: 10.00 - 17.00 hours
Closed on Mondays and for the months of December, January and February.
Admission
Free
Facilities
A room at the Visitor Centre is available for groups by appointment.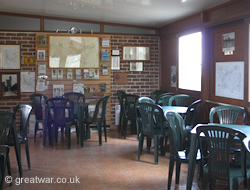 A café/tea room serving hot and cold drinks, snacks and confectionery.
A large meeting room/hospitality room for groups (by appointment).
Books, postcards and souvenir items are on sale.
Toilets (for use by visitors to the Memorial Tower and Visitor Centre).
Free parking in a designated area off the road.
Contact Details
Address: Route St. Pierre Divion, 80300 Thiepval, France
Email: ulstertower@sommeassociation.com
Telephone: +33 (0)3 22 74 87 14
Website: irishsoldier.org Ulster Memorial Tower
Location of the Ulster Memorial Tower Visitor Centre
The Visitor Centre for the Ulster Memorial Tower is situated in the grounds of the Memorial Tower. This is located on the D73 on the brow of the hill between the Ancre River and the railway crossing north of Hamel village and the hamlet of Thiepval.
The Somme Association
For information about the Somme Association and how to become a Friend of the Somme see our page at:
Related Topic
For information about the Memorial to the 36th (Ulster) Division see: