Battles of the Somme: Introduction
The Great War Arrives in Picardy
By 22 September 1914, following the First Battle of the Marne (6–12 September 1914) and the First Battle of the Aisne (12–21 September 1914), the French and German armies began fighting a series of battles side-stepping one another through northern France in an attempt to outflank the other. These outflanking manoeuvres would take them in a north-westerly direction from the Aisne region towards the French coast. This period of fighting became known as "The Race to the Sea". When the fighting of the First World War arrived in the Somme and Picardy region in September 1914 the British Expeditionary Force was not involved in the first battles of the Somme at that time.
Somme Battles 1914
1915
Somme Battles 1916
Second wave of British troops going over the top during the Battle of the Somme 1916. (GWPDA)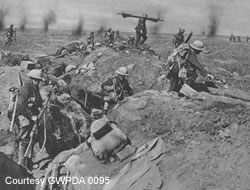 Somme Battles 1918
Related Topics
Battlefield Remains
Aerial photograph taken in the 1980s of the huge crater left by the explosion of the mine at Lochnagar at 07.30 hours on 1 July 1916.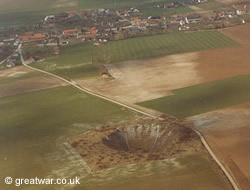 There are a number of sites on the Somme battlefield to visit where battlefield remains can be seen.
Acknowledgements
(GWPDA) Photographs with grateful thanks to the Great War Primary Document Archive: Photos of the Great War:
Website: www.gwpda.org Photos