WW1 Trench at "Ocean Villas" (Auchonvillers)
An original First World War trench was discovered in the early 1990s at the rear of the house at number 10 rue Delattre, now well-known as the "Ocean Villas" guest-house, museum and tea rooms at Auchonvillers. Over the years work has been carried out by volunteers to preserve and maintain the trench. Professional archaeological surveys have also been made.
Elephant iron sheets over the trench at Ocean Villas.
Visitors to the Somme battlefield are welcome to visit this rare site of historic interest. Adverse weather conditions may mean that the trench is closed to walk through at the discretion of Ocean Villas, but in such circumstances it may still be possible to view it with care.
History of the Trench at "Ocean Villas"
Autumn 1914
Modern corrugated tin and sandbags replacing these original materials used by soldiers in the trench.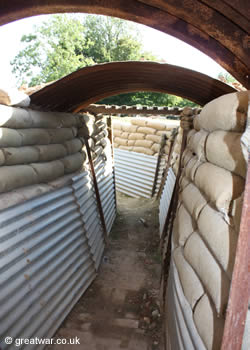 The trench originates from the French occupation of this sector from the autumn of 1914, when a French Front Line position was first established a little to the east of this place at Beaumont Hamel village. This trench was dug as a communication trench leading to and from the French Front Line.
Summer 1915
The British Army arrived in the battle sector at Beaumont Hamel in the summer of 1915. They took over the sector from the French Army and set to work to strengthen the defensive trench system here. The preserved trench at "Ocean Villas" was worked on as a communication trench.
Summer 1916
The men of 29th Division arrived in this sector in the spring of 1916, brought into the line in preparation for the planned British offensive scheduled at that time for late June/early July 1916. The men will have used this trench as one of the communication trenches leading to the British Front Line west of Beaumont Hamel for several weeks before the Somme offensive was to be launched. On the eve of the battle, 30th June, some of the men in the battalions of 29th Division will have moved through this trench to make their way into position ready for the launch of the British attack at 07.30 hours on 1st July.
Spring 1918
The New Zealand Division was in the battle sector here when the German Army launched the Spring Offensive against the Allied positions on 21st March 1918.
Contact Details
Trench at Ocean Villas.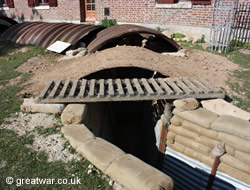 Visitors wishing to visit the trench can contact Avril in advance. Visitors may arrive without notice but should be aware that "Ocean Villas" reserves the right to decline a visit should the conditions underfoot be considered to be slippery following wet weather.
Email: avwilliams@orange.fr
Website: www.avrilwilliams.eu
Telephone & fax: +33 (0)3 22 76 23 66
Contact: Avril Williams, 10, rue Delattre, 80560 Auchonvillers, France
Location of "Ocean Villas" Trench
The trench is situated at "Ocean Villas" Guest House, Museum and Tea Rooms in Auchonvillers village. It is a short distance from Newfoundland Memorial Park.
Related Topics
"Ocean Villas" WW1 and WW2 Museum, Auchonvillers