38th (Welsh) Division Memorial, Mametz Wood
The red dragon faces Mametz Wood.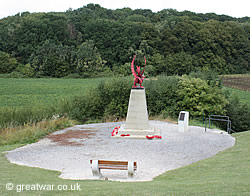 This stunning Welsh dragon memorial overlooks the area where the 38th (Welsh) Division attacked Mametz Wood between 7th and 14th July 1916. The wood was eventually cleared by 14th July but at a cost of over 4,000 British casualties.
Location of 38th (Welsh) Division Memorial
The memorial is located to the north-east of Mametz village, and on the south side of Mametz Wood (Bois de Mametz). From the direction of Mametz village the D184 (Rue de la Libération) main road from Fricourt to Montauban-de-Picardie is signposted in the direction of Contalmaison (Rue Böelle). After about 800 metres a right turn signposts to the "Mémorial Galois (Welsh Memorial) — 38 ain Rhaniad Cymraig — 38th (Welsh) Division Memorial".
Proceed along the metalled single-track road for approximately 250 metres to a fork in the road and follow the sign for the memorial to the right. After about 2 kilometres you will arrive at the parking area/turning circle for the memorial. Please be advised that this is a single-track road and there are limited passing places.
From the parking area/turning circle there is a single (non-metalled) track (Rue Santin) which continues on for about 2.5 kilometres from the 38th Division Memorial, past Flat Iron Copse Cemetery and on to the D20 Longueval to Contalmaison road. Although this track may be passable for light vehicles in dry weather, it is generally only advisable to use it as a route for walkers.
Access & Parking
The memorial is reached by a single track metalled road. There is a designated car parking place and turning circle close to the memorial.
The memorial is situated on an area of high ground and there are steps up to it from the car parking area. Alternatively it is possible to walk up to the memorial from the road, but this may be a little steep and uneven for visitors who have difficulty walking unaided.
Related Reading
Up to Mametz - and Beyond [Hardback]
by Llewelyn Wyn Griffith, edited by Jonathan Riley
The book incorporates a reprint of the highly acclaimed book by Llewelyn Wyn Griffith in 1931, and this version is edited by Lieutenant General Jonathan Riley, CB, DSO RhD, MA. It includes previously unpublished letters and diaries of Llewelyn Wyn Griffith. The book provides an account of the 15th Battalion The Royal Welsh Fusiliers from its training through to its participation with 38th Welsh Division at the Battle at Mametz Wood in July 1916. The story by Wyn Griffith ended there, however it is now continued by editor Jonathan Riley through to the end of the war using the previously unpublished letters and diaries of Wyn Griffith. Published by Pen & Sword Military (Nov 2010). 224 pages. ISBN-10: 1848843534, ISBN-13: 978-1848843530
Mametz (Battleground Europe Series) [Paperback]
by Michael Renshaw
Published by Pen & Sword Books Ltd. (Aug 1998). 176 pages. ISBN-10: 0850526647, ISBN-13: 978-0850526646
Related Topics
Visiting the Somme Battlefields