Hunter's Cemetery, Auchonvillers, Somme Battlefields, France
Hunter's Cemetery, with the 51st (Highland) Division memorial in the background.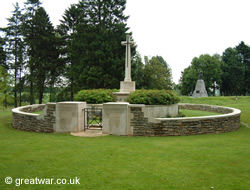 The cemetery is a large shell hole, in which soldiers of the 51st (Highland) Division and the 63rd Royal Naval Division were buried after the attack on Beaumont Hamel in November 1916. There are over 40 British casualties buried in this site.
The origin of the name of the cemetery is believed to be taken from an Army Chaplain called Reverend Hunter who was attached to the Black Watch, one of the regiments which took part with the 51st (Highland) Division in the November 1916 battle.
Location
Latitude N 50° 4' 41" ; Longitude E 2° 38' 58"
The cemetery is located in the grounds of the Newfoundland Memorial Park.
Access
Access to the cemetery is by entering Newfoundland Memorial Park. Hunter's Cemetery is at the far end of the park. The Memorial Park is open daily.
Related Topic
Newfoundland Memorial Park