Serre Road Cemetery No. 2, Serre-les-Puisieux
Serre Road Cemetery No. 2 has a total of 7,127 British and Commonwealth burials. Of these only 2,183 are identified.
View looking north-west from the Cross of Sacrifice at Serre Road Cemetery No. 2.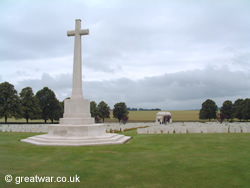 The cemetery was started in May 1917 when the British V Corps cleared the battlefield of soldiers' remains when the territory around the cemetery came into British hands. Many hundreds of soldiers had been killed in the vicinity of this cemetery in the British offensive of 1st July 1916 and it had not been possible to retrieve their bodies for almost a whole year. The British 31st and 4th Divisions had attacked along the Front on that day and had suffered heavy casualties, many of whom were killed in No-Mans-Land and were irretrievable for many months.
In February of 1917 the German Army left their positions at Serre village and the Redan Ridge, which they had firmly held since September 1914 and made a tactical withdrawal to a line of defence they called the Siegfried Stellung, known to the British as the Hindenburg Line.
Entrance and parking area for Serre Road Cemetery No. 2.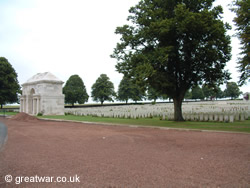 From the establishment of the cemetery in the spring of 1917 until the end of the war there were about 475 soldiers buried here. After the Armistice there were 71 individual graves brought to this cemetery from 16 locations including French civilian cemeteries, one German military cemetery and one American military cemetery.
During the clearance of the battlefields in this area the remains of over 6,500 British and Commonwealth dead were discovered and reburied in Serre Road Cemetery No. 2. The majority of those remains, almost 5,000 of them, could not be identified.
Design
Entrance to Serre Road Cemetery No. 2.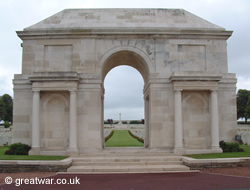 The cemetery was designed by Sir Edwin Lutyens. It was completed in 1934.
Location of Serre Road Cemetery No. 2
Latitude N 50° 5 45" ; Longitude E 2° 39' 10"
Serre Road Cemetery No. 2 is located on the south side of the D919 road between Serre-les-Puisieux and Mailly-Maillet.
Parking
There is a designated pull-off point at the entrance to the cemetery with room for several cars and a coach. Although the road is relatively quiet, the traffic can pass by at speed and visitors are advised to take care when moving about the parked vehicles.
Related Topics
Visiting the Somme Battlefields
Visiting the Somme Battlefields
Acknowledgements
Commonwealth War Graves Commission.