London Cemetery & Extension, Longueval
London Cemetery & Extension, Longueval.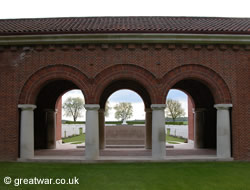 London Cemetery and Extension is the third largest British military cemetery on the Somme battlefields. There are 3,873 casualties buried here and of those remains 3,114 are unidentified.
Origins of the Cemetery
Original graves at London Cemetery, Longueval.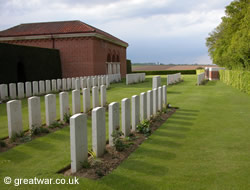 The cemetery was started in September 1916. 47 casualties serving with 47th (London) Division were buried at this place in a shell hole. Casualties after this date, mainly men of the 47th (London) Division who were killed in the British offensive in this area on 15th September 1916, were buried here too. By the time of the end of the war in November 1918 there were 101 burials at this place.
The name of London Cemetery derives from the 47th London Division having been here in September 1916 and burying its casualties here from that time.
Cemetery Extension
Graves in the Extension at London Cemetery, Longueval.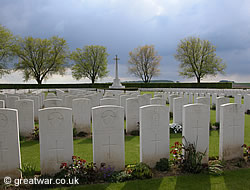 After the Armistice the cemetery was extended with British burials being brought to this place from the surrounding fields and woods. The extension contains the graves of over 3,500 officers and men who lost their lives in the fighting in this area.
Corporal T H Parker, Royal Welsh Fusiliers
Cpl. Thomas Henry Parker, RWF.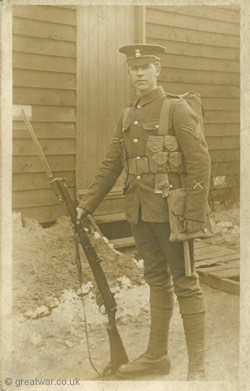 Acting Corporal Thomas Henry Parker, No. 36892, 2nd Battalion Royal Welsh Fusiliers, is buried in this cemetery. He is the grand-uncle of Joanna Legg (née Parker), author of this website.
Tom's Service Record is one of a limited number which survived Second World War bomb damage. From the Service Record we know that Tom, a policeman in Birmingham, enlisted with the Royal Welsh Fusiliers on 15th November 1915. He arrived in France and joined 2nd Battalion as an Acting Corporal on 21st August 1916.
The Service Record also contains a note dated 28th October 1916 from his mother to the Royal Welsh Fusiliers' district office in Shrewsbury:
"Dear Sir, Not having heard from my son for several weeks, I wish to know if you can let me know any news of him. I am anxious. I remain, yours truly, Mrs Parker"
A note on the card confirms a letter dated 30th October 1916 was written to the mother to say that no casualty had been posted and, therefore, "presumed all well".
Grave of Cpl. Thomas Henry Parker, RWF.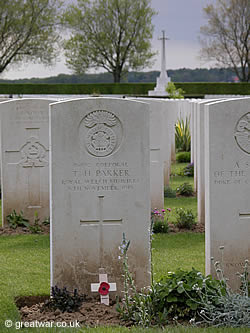 Eight days after his mother wrote that note, on the night of 5th November Tom went on a patrol north-east of Les Boeufs village. He is believed to have been shot and was reported Missing in Action on 6th November. Later that day the battalion withdrew from the Front Line and went for a period of rest in the rear areas.
After the war Tom's name was inscribed on the Thiepval Memorial to the Missing. However, in the late 1930s his remains were discovered by a farmer and he was brought to London Cemetery for reburial. His name is one of about 250 soldiers' names inscribed on the Thiepval Memorial whose remains have since been found but their names have been left on the memorial.
His younger brother William visited the grave in 1962 with his grand-daughter, Joanna then aged three. William did not know that Tom had been found. It would seem that for some reason the family either did not receive notification that his remains were discovered, or his parents did and possibly they chose to hope that he was still missing and that one day he might return. After the war Tom's mother apparently often would think she had seen him from a distance in his home town of Rugeley, Staffordshire. It was said in the family that she died of a broken heart with the loss of Tom.
Tom is buried in the Cemetery Extension in Plot I, Row A, Grave 1.
Second World War Casualties
There are 165 burials of British servicemen from the Second World War. Previously buried in the local area in places such as village churchyard cemeteries or in graves where they fell, they were brought together to this British war cemetery.
Design & Construction
London Cemetery & Extension, Longueval.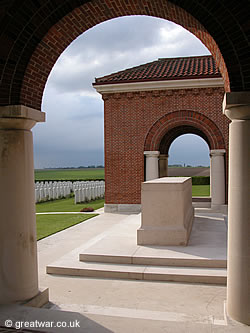 The London Cemetery was designed after the First World War by Sir Herbert Baker. After the Second World War design and construction work was again carried out by Austin Blomfield.
Location of London Cemetery & Extension
Latitude N 50° 2' 19" ; Longitude E 2° 46' 56"
The cemetery is located on the west side of the wood called Bois des Fourcaux (formerly called Bois des Foureaux) and known as "High Wood" to the British Army on the Somme battlefield.
Parking
There is designated room for several cars to pull off the road, which is generally quiet, at the entrance to the cemetery.
Related Topics
Cemeteries on the Somme Battlefields
Monuments on the Somme Battlefields
Commonwealth War Graves Commission (CWGC)
For information about the Commission and how to trace a soldier on the Debt of Honour online register see our page at:
Commonwealth War Graves Commission (CWGC)
Acknowledgements
The Commonwealth War Graves Commission