Serre-Hébuterne French Military Cemetery, Serre-les-Puisieux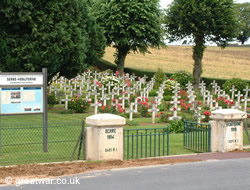 Serre-Hébuterne military cemetery was created between 1919 and 1923. It contains the graves and remains of French soldiers killed in action during fighting against the German front line at Hébuterne from 10th to 13th June 1915; over a year before the main Somme Offensive of July 1916.
The cemetery is the final resting place of 834 French soldiers, of whom the remains of 240 lie in an ossuary.
There is a commemorative plaque to the dead of 243e Regiment d'Infanterie.
French War Graves Agency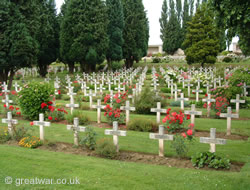 French Military graves are looked after by the French War Graves Agency.
See our page about the French war graves agency at:
Location
Latitude N 50° 5 58" ; Longitude E 2° 39' 21"
The cemetery is located on the north side of the D919 road from Mailly-Maillet to Puisieux, approximately 3 kilometres south of Serre-les-Puisieux village.
Related Topics
Visiting the Somme Battlefields
Visiting the Somme Battlefields
Acknowledgements