51st (Highland) Division Memorial
The 51st Division Memorial.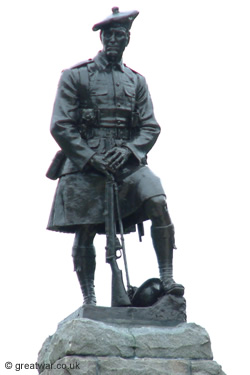 On 13th November 1916 the village of Beaumont Hamel was attacked and captured by the 51st (Highland) Division.
The 51st Highland Division memorial was unveiled in 1924 and is a sculpted statue of a Scottish soldier in his kilt. He looks across the landscape over the Y Ravine and beyond the German Front Line where this successful action broke through.
The Sculptor
Detail of the Scottish soldier sculpted for the 51st Division Memorial.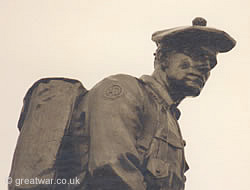 The sculptor was George Harry Paulin, A.R.S.A.,F.R.B.S. (1888-1962). The title of the sculpture was "Bronze Statuette - Memorial to 51st Highland Division at Beaumont Hamel 1924". The model for the sculpture was a Company Sergeant Major in the Division.
Location
Latitude N 50° 4' 41" ; Longitude E 2° 39' 2 "
The memorial is located in the grounds of the Newfoundland Memorial Park.
Access
Access to the memorial is by entering Newfoundland Memorial Park. It is at the far end of the park. The Memorial Park is open daily at all hours.
Further Reading
The Spirit of the Troops is Excellent, The 6th (Morayshire) Battalion, Seaforth Highlanders in the Great War 1914-1919
by Derek Bird
The 6th Battalion Seaford Highlanders served in the 51st (Highland Division) and participated in the fight for Beaumont Hamel in November 1916. Published by Birdbrain Books (Nov 2008). ISBN-10: 0956022308 and ISBN-13: 978-0956022301
Beaumont Hamel (Battleground Europe) (Paperback)
by Nigel Cave
Published by Pen & Sword Books (April 1994). ISBN-10: 0850523982 and ISBN-13: 978-0850523980
Related Topic
Newfoundland Memorial Park