Bed and Breakfast and Self-catering Accommodation on the Somme Battlefields
There are a number of Bed and Breakfast and self-catering accommodation properties on or close to the battlefields of the Somme.
The places featured on this site are intended as a guide to help visitors. We advise you to make contact with them directly if you wish to know more details and make reservations.
Related Topic
Restaurants on the Quai Belu on the River Somme in Amiens.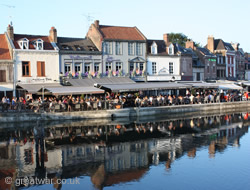 See our listing of suggested hotel accommodation on and near the Somme battlefields: