Visitors' Centre Newfoundland Memorial Park
The Visitors' Centre in Newfoundland Memorial Park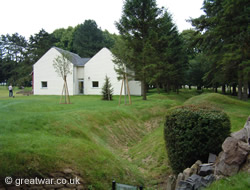 The Visitors' Centre was opened on 1 July 2001. The displays within the Centre focus on the historical and social situation of Newfoundland at the start of the 20th century. It covers the history of the Royal Newfoundland Regiment from when it was formed in 1914 to the end of the First World War. There is a Memorial Room in the Centre with a copy of the Newfoundland Book of Remembrance. A number of personalities who served with the Regiment are portrayed along with other memorabilia and short video clips.
Free guided tours around the memorial park are provided by Canadian students trained and sponsored by Veteran Affairs Canada.
Visitor Information
The Visitors' Centre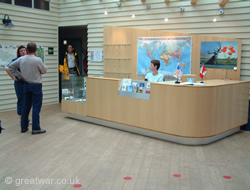 Access to the Newfoundland Memorial Park is free and the park is open at all hours.
Restricted opening hours apply only to the Visitor Centre as follows:
Open Mondays 11.00 - 17.00 hours; Tuesday - Sunday 09.00 - 17.00 hours
Queries & Information Contact
For information or reservations for guided tours contact:
Address: Beaumont-Hamel Newfoundland Memorial, Rue de l'Église (route D73), 80300 Beaumont-Hamel, France
Telephone: +33 (0)3 22 76 70 86
Email: beaumonthamel.memorial@vac-acc.gc.ca
Website: www.veterans.gc.ca Beaumont Hamel
Related Topic
Read about the memorials and preserved trench lines in the Newfoundland Memorial Park: