Y Ravine Cemetery, Auchonvillers, Somme Battlefields, France
Y Ravine Cemetery.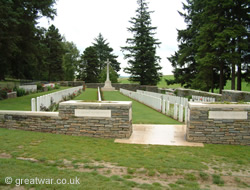 This cemetery was started in the spring of 1917 by the British V Corps and was originally called Y Ravine Cemetery No. 1. By that time the British Front Line had moved further east beyond the 1st July 1916 battle lines so it was possible to retrieve and bury soldiers who had been lying in this area for the best part of a year.
There are over 400 casualties commemorated in this cemetery, many of which are unidentified. There are 275 identified burials in the cemetery. There are also 53 individuals from the United Kingdom and 8 individuals from Newfoundland named on memorials in the cemetery who are believed to be buried in this site among the unidentified graves.
Location
Latitude N 50° 4' 34 " ; Longitude E 2° 39' 8"
The cemetery is located in the grounds of the Newfoundland Memorial Park.
Access
Access to the cemetery is by entering Newfoundland Memorial Park. Y Ravine Cemetery is at the eastern side of the park. The Memorial Park is open daily.
Related Topic
Newfoundland Memorial Park