Hawthorn Ridge Cemetery No. 2, Auchonvillers, Somme Battlefields, France
Hawthorn Ridge Cemetery No. 2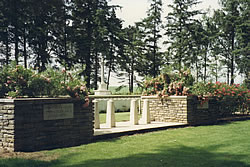 This cemetery was originally made in the spring of 1917 by the British V Corps (and named V Corps Cemetery No. 12). There are 200 graves in the cemetery, most of which are for soldiers killed in this location on 1st July 1916. There are 149 identified burials and over 50 of the remaining graves are unidentified.
The cemetery is located in what was No-Mans-Land on 1st July 1916, between the British and the German Front Lines. The Front Lines were situated on a ridge of high ground called the Auchonvillers Spur running in a south-easterly direction. A hawthorn tree was growing on this high ground and so the ridge became known as Hawthorn Ridge by the British Army when it moved in to occupy the Front Line here in August 1915.
Location
The cemetery is located in the grounds of the Newfoundland Memorial Park.
Access
Access to the cemetery is by entering Newfoundland Memorial Park. Hawthorn Ridge Cemetery No. 2 is at the far end of the park. The Memorial Park is open daily.
Related Topic
Newfoundland Memorial Park