Pozières British Cemetery
Location of the box containing the register of graves and commemorated names at Pozières British Cemetery.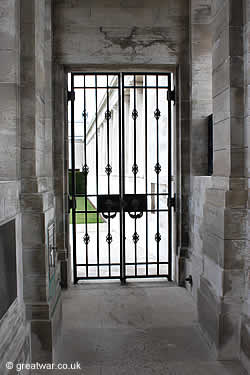 Pozières British Cemetery is enclosed within the boundary wall incorporating the Pozières Memorial to the Missing of 1918.
Burials made during 1916, 1917 and 1918 are contained in Plot II and these were made at that time by the fighting units or field ambulances in position here near Pozières.
All other graves were brought to this cemetery after the Armistice in November 1918. Most of the graves were brought here from battlefield burials in the vicinity of this cemetery. Most of these casualties were British and Commonwealth soldiers who were killed in the surrounding fields during the autumn battles of the 1916 Battle of the Somme. Some were casualties discovered in isolated burial plots and small cemeteries from the fighting in August 1918.
There are now 2,758 Commonwealth servicemen buried or commemorated in this cemetery. 1,380 of the burials are unidentified but there are special memorials to 23 casualties known or believed to be buried among them. There is also one German soldier buried here.
Design and Unveiling
View of the Great Cross at Pozières British Cemetery.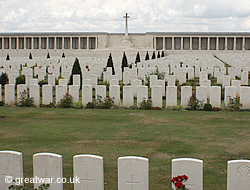 The Pozières Memorial and the cemetery were designed by W H Cowlishaw. The sculpture was by Laurence A Turner.
The memorial was unveiled by Sir Horace Smith-Dorrien on 4th August 1930.
The Pozières Memorial
The names of over 14,000 casualties commemorated on the Memorial to the Missing at this site are inscribed on panels incorporated in three of the boundary walls of the cemetery.
Location of the Pozières British Cemetery
Latitude N 50° 2' 2" ; Longitude E 2° 42' 56"
The Pozières British Cemetery is located on the north side of the D929 Albert-Bapaume road just to the south of the village of Pozières.
Parking
There is a designated lay-by area at the entrance of the memorial and cemetery. Visitors are advised to take special care as this is a main road used by lorries and cars often travelling at high speeds.
Related Topics
Cemeteries and Memorials on the Somme Battlefields
Cemeteries on the Somme Battlefields
Memorials on the Somme Battlefields
Commonwealth War Graves Commission (CWGC)
For information about the CWGC and a link to the Commission website for the purchase of Cemetery Registers, see our page at:
Commonwealth War Graves Commission
Acknowledgements
Commonwealth War Graves Commission