Motorcycling Tours on the WW1 Battlefields
The guides and tours listed on this page offer tours to the battlefields by motorbike.
Battlefields on a Bike
Telephone: +44 (0)161 772 2945
Email: contact@battlefieldsonabike.co.uk
Website: www.battlefieldsonabike.co.uk
The people behind Battlefields on a Bike are Chris, Paul and Eugenie. They escort groups of bikers with an interest in both WW1 and WW2 history to visit the battlefields, memorials and cemeteries around Europe. The tours support the work of the Royal British Legion (RBL). They are open to members of the RBL Riders Branch. Bespoke tours for clubs, groups and societies can be arranged.
Features of Battlefields on a Bike tour:
move around the geography more quickly than a coach tour or car
hear a detailed explanation, from recognised historian and author Chris Cherry, of the events that took place at significant locations
the latest radio technology provides live commentary en route
visit more of the remote and significant battlefields, memorials and cemeteries that would be impossible to visit by other means of transport
visit up to 12/15 locations in one day
tour backup and support for motorcycling in France and Belgium
make a personal visit to a fallen relative's resting place or place of action.
For more information and to make an enquiry about joining a motorcycling tour with Battlefields on a Bike visit their website.
Website: www.battlefieldsonabike.co.uk
Related Topics
Visitors reflect at the Ploegsteert Memorial to the Missing south of Ypres.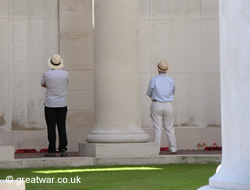 Visiting the WW1 Western Front Battlefields
Advice and useful information about travelling, accommodation and tourist information for visitors to the Western Front battlefields:
Visiting WW1 Western Front Battlefields
Battlefields of the Western Front
Pages on the battlefields by area including comprehensive listings and locations of military cemeteries, main memorials, battle remains, museums and accommodation:
Yser Battlefields & the Belgian Coast
The Ypres Salient, Flanders, Belgium
The Ypres Salient, Flanders, Belgium
French Flanders and Artois
The Somme, Picardie, France
International Guild of Battlefield Guides
The International Guild of Battlefield Guides is for guides with a specialism in battlefield history, providing an organization where guides can meet one another, share information and approaches to the subject. Members of the Guild can take part in an accreditation programme to become a "Badged Guide". Visit:
Website: www.gbg-international.com
Battlefield Tours
Battlefield Tour Companies and Guides (from the United Kingdom)
Battlefield Tour Companies and Guides based in Belgium and France
Cycling Routes & Tours on the WW1 Battlefields
Self-drive Itineraries & Tours of the WW1 Battlefields