Cycling Routes & Tours on the WW1 Battlefields
A popular way to visit the battlefields is to do it by bicycle. Guides and maps for recommended cycling routes are available from publishers or from tourist offices. Guides and battlefield tour companies listed here also offer a variety of tours by bike to suite all abilities.
Cycling Routes for WW1 in Flanders
fietsroute.org
Email: mail@fietsroute.org
Website: www.fietsroute.org
Fietsroute.org is a popular website offering cycling trail routes in Belgium. For the Great War centenary a special page has been created for cycling trails in the Westhoek area covering Ypres (Ieper) and the surrounding area including the battlefields of the Yser and the Ypres Salient. The routes vary in distance and an itinerary of the key locations you will cycle to is provided for each route. The information is available in English on the website, and has links to purchase cycling maps of Flanders online from Stanfords, the well-known map stockist.
Visit the website for further information:
Website: www.fietsroute.org WW1 Cycle Routes
Cycling Tours of the Battlefields
Cycling the Western Front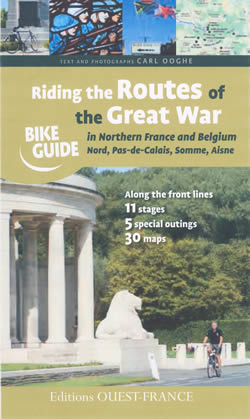 Somme Battlefields Partner
Telephone: (Belgium) + 32 (0)4 75 81 06 08; (France) +33 (0)7 88 24 59 01
Email: carl.ooghe@gmail.com
Website: www.cyclingthewesternfront.co.uk
Qualified guide Carl Ooghe established his battlefield tour company in 1987. He specializes in tours to the battlefields of Flanders, The Somme, The Aisne, The Marne and Meuse-Argonne.
Carl publishes cycling guide books in Dutch, French and English. A range of cycling tours is available:
self-guided tours
single day tours
multi-day tours with overnight accommodation
tailor-made tours
ANZAC tours
Bike & Barge cycling tours
Mixed terrain sport cycling battlefield tours
For prices, arranging a bespoke tour to visit places of special interest to you, assistance and arrangements for travel to main rail destination stations in Belgium and France, visit Carl's website:
Website: www.cyclingthewesternfront.co.uk
Carl also offers guided tours by minibus for up to 7 people. See Carl's tours The Western Front Revisited on our page:
WW1 Battlefield Tour Companies and Guides Starting in Belgium & France: The Western Front Revisited Tours
Green Jersey French Cycling Tours
Member of the Travel Trust Association No. Q0937
Telephone: +44 (0)7974 148229
Email: info@greenjerseycycling.co.uk
Website: www.greenjerseycycling.co.uk
Green Jersey French Cycling Tours is a highly experienced, specialist tour company offering a wide variety of cycling tours in France. The company is based in the United Kingdom but all tours start and end in France.
One of the tours is a 7 day tour with 5 days' of easy daily cycling along a route visiting the major sites of the First World War battles of the Ypres Salient in Belgium, Vimy and Arras in Artois and the Somme in the magnificent rolling countryside of Picardy. Groups and requests for bespoke tours are welcome. The scheduled WW1 tour starts and ends in Lille. It includes 6 nights' half board, transport of luggage, full back-up support at all times and experienced guides. For more detail of the daily itineries, dates for this tour and information about getting to Lille visit the website page at:
Website: www.greenjerseycycling.co.uk Great War Battlefields Tour
Further Reading
Riding the Routes of the Great War: In Northern France & Belgium, Nord, Pas-de-Calais, Somme, Aisne (Paperback)
by Carl Ooghe
Recommended guide for touring the WW1 battlefields of northern France and Belgium by bike. English; Publisher: Ouest-France (23 April 2014); ISBN-10: 2737363187; ISBN-13: 978-2737363184
Cycling & Walking Route Maps
For recommended maps for cycling and walking on the Western Front battlefields, see our page:
Maps for Travel to the WW1 Battlefields
Related Topics
Visitors reflect at the Ploegsteert Memorial to the Missing south of Ypres.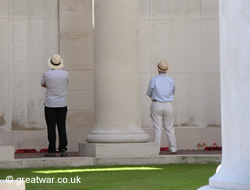 Visiting the WW1 Western Front Battlefields
Advice and useful information about travelling, accommodation and tourist information for visitors to the Western Front battlefields:
Visiting WW1 Western Front Battlefields
Battlefields of the Western Front
Pages on the battlefields by area including comprehensive listings and locations of military cemeteries, main memorials, battle remains, museums and accommodation:
The Ypres Salient, Flanders, Belgium
French Flanders and Artois
The Somme, Picardie, France
International Guild of Battlefield Guides
The International Guild of Battlefield Guides is for guides with a specialism in battlefield history, providing an organization where guides can meet one another, share information and approaches to the subject. Members of the Guild can take part in an accreditation programme to become a "Badged Guide". Visit:
Website: www.gbg-international.com
Battlefield Tours
Battlefield Tour Companies and Guides (from the United Kingdom)
Battlefield Tour Companies and Guides based in Belgium and France
Self-drive Itineraries & Tours of the WW1 Battlefields
WW1 Battlefield Tour Companies for Students & School Groups
Acknowledgements
Photo of cyclist at Ploegteert Memorial courtesy of Carl Ooghe.