Accommodation In and Around Ieper (Ypres)
The town of Ieper (Ypres) and the surrounding area are well served for a wide variety of hotels, bed and breakfast or self-catering lodgings, hostels for educational and military groups, and campsites. The good selection on offer should suit the requirements of all visitors to the battlefields of the Ypres Salient.
A good variety of accommodation is available in the town of Ieper (Ypres). The benefits of this can be to provide a visitor with the convenience of easily being able to spend time exploring the town on foot, visiting the museums and numerous sites of interest at their leisure.
There are also a good number of small hotels, self-catering and Bed & Breakfast establishments outside of Ieper in the surrounding region from Poperinge in the west to the town of Roeselare north-east of Ieper. The range of good accommodation outside Ieper town provides visitors to the area with an opportunity to stay in the peaceful Flemish countryside, get to know the local people and discover more about the local culture through their hosts.
Most Belgian accommodation is of a high standard and visitors to the Ypres Salient battlefield areas are assured of a warm welcome.
Listings and Locations of Ypres Salient Accommodation
For our comprehensive listings and location of accommodation suitable for visiting the Ypres Salient see our pages at:
Bed & Breakfast and Self-catering Accommodation in and around Ieper
Hostel Accommodation in and around Ieper
Related Topics
Pavement cafés including "Den Klein Stadhuis", "De Anker" and "De Trompet" on the market square next to the Cloth Hall in Ieper.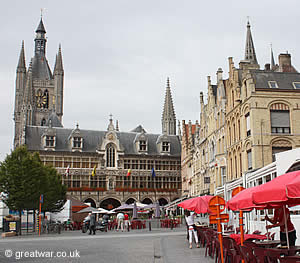 Visitor Centre for Ypres and the Westhoek
See our page about the Visitor Centre in Ypres and where to find it:
Visitor Centre for Ypres and the Westhoek
Where to Eat
A list of restaurants and cafés.
Cafés and Restaurants on the Ypres Salient Battlefields
Visiting the Ypres Salient Battlefields
See our introduction page about visiting the Ypres Salient battlefields in Belgium: