Menin Gate Memorial Bronze Replica
Bronze replica on the Ramparts of the Menin Gate Memorial to the Missing.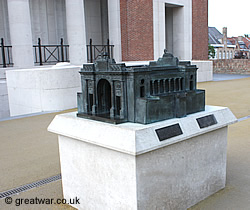 A scale model in bronze of the Menin Gate Memorial provides all visitors and especially those with visial impairment the opportunity to touch and discover the shape and design of this major British monument. Information about the memorial and the replica model is provided in braille on four bronze plaques.
The replica model was unveiled in 2010 as a peace memorial. The costs for the model were donated by the Service Club Kiwanis Ieper Vlakke Land. A Service Club is a not-for-profit organization where the members are involved with doing charitable work themselves or they raise money for projects and good causes.
The wooden maquette for the design was created by Georges Baert from Ieper and this was then cast in bronze.
A Special Inscription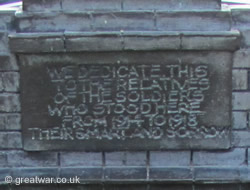 The replica model carries a special inscription on the east side of the memorial:
WE DEDICATE THIS
TO THE RELATIVES
OF THE SOLDIERS
WHO STOOD HERE
FROM 1914 TO 1918
THEIR SMART AND SORROW
Location of the Menin Gate Replica Model
The replica model is located on the Ramparts close to the south-facing loggia of the Menin Gate Memorial to the Missing. The Ramparts and the replica model can be reached by using the steps of the southern stairway from the pavement under the Menin Gate. For those wishing to avoid steps there is a sloping pathway from the pavement of Bollingstraat at the western end of the Menin Gate.
Related Topic
Cloth Hall (Lakenhalle) Bronze Replica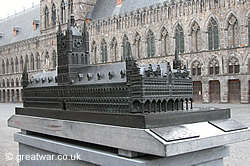 Another bronze replica of an Ieper landmark can be seen on the south side of the Cloth Hall in the Grote Markt (market square).
Cloth Hall (Lakenhalle) Memorial Bronze Replica
Acknowledgements
The Reconstruction of Ieper: A Walk Through History by Dominiek Dendooven and Jan Dewilde. This book can be purchased at the Ieper Tourist Office bookshop.