Buttes New British Cemetery, Polygon Wood
This cemetery contains the remains of 2,108 Servicemen of the Commonwealth. Of these burials only 396 were identified for a known grave and headstone.
Buttes New British Cemetery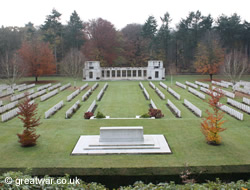 The cemetery was established here after the war. Remains of British and Commonwealth soldiers killed in the battlefields around Polygon Wood were brought here for burial by the burial parties clearing the battlefields. Most of the casualties had been killed during the fighting in 1917 in the later stages of the Third Battle of Ypres.
There are special memorials to 35 Servicemen who could be identified to have been buried in this place but their identified remains could not be established for a specific grave marked with a headstone.
Polygon Wood
The wood was the scene of bitter fighting and exchanged hands between the British and German Armies several times during the four years of the war.
In the late summer of 1917 during the last few weeks of the Third Battle of Ypres, on 26 September 1917, it was captured from the German Army by the 5th Australian Division in fierce fighting. The following spring, April 1918, the British Army made a difficult decision to leave Polygon Wood and pull back its Front Line as a result of the German Army launching a Spring Offensive. Several months later, in September 1918, the wood was finally retaken by the 9th Scottish Division of the British Army during the Allied battles in their Advance to Victory.
5th Australian Division Memorial
A memorial to the 5th Australian Division is located at the cemetery.
New Zealand Memorial
The Buttes New British Cemetery (New Zealand) Memorial is located in the southern part of the cemetery.
Buttes New British Cemetery (New Zealand) Memorial
ANZAC Day Service at Dawn
In recent years a Service of Commemoration has been held at dawn annually at this cemetery on ANZAC Day, 25 April. The service is arranged by the Australian Embassy and the local municipal authority of Zonnebeke.
For information about this event follow our link below for ANZAC Day events organized by the Australian Government Department of Veterans' Affairs:
ANZAC Day Events in Australia & Overseas
Location of Buttes New British Cemetery
Lange Dreve, 8980 Zonnebeke, Belgium
Latitude N 50° 51' 21" ; Longitude E 2° 59' 31"
Latitude 50.855884; Longitude 2.991925
Buttes New British Cemetery is located approximately 3 kms south of Zonnebeke and 6 kms east of Ypres. The cemetery is at the northern corner inside (Polygonbos) Polygon Wood on a lane called Lange Dreve and is accessible by a path from Lange Dreve.
Related Link
The Australian Remembrance Trail: France and Belgium
Australian visitors may be interested to see a website established by the Australian Government which provides information about the major sites to visit in France and Belgium where the Australian forces fought and where they are commemorated.
Website: www.ww1westernfront.gov.au Australian Remembrance Trail
Acknowledgements
Some of the cemetery description and history has been sourced by kind permission of The Commonwealth War Graves Commission (CWGC). For more information about the cemeteries and the work of the commission visit the CWGC website:
Website: www.cwgc.org