Saint-Charles-de-Potyze French Military Cemetery, Belgium
Entrance of the St. Charles-de-Potyze cemetery.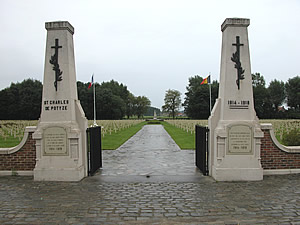 The cemetery was created during the First World War and redeveloped in 1920, 1922 and from 1925-1929, when French soldiers were exhumed and brought here as a final resting place from the Flanders Front, the Yser river region and the Belgian coast.
There are 3,547 named military dead including the remains of 609 soldiers in the ossuary.
After the Great War many of the unidentified French soldiers were exhumed and reinterred in the ossuary at Le Mont-Kemmel.
The cemetery is 29,900 square metres in size. The French national flag flies in the centre of the cemetery.
Some of the 3,500 burials in St. Charles-de-Potyze cemetery.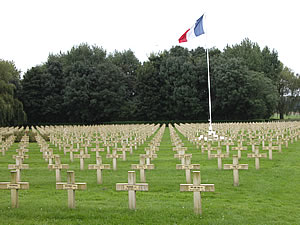 Breton Calvaire Monument
Memorial sculpture by Jean Fréour in the St. Charles-de-Potyze cemetery.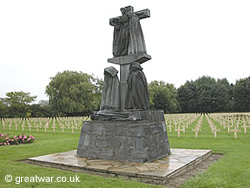 This is a large monument based on the theme of Christ's crucifixion in the style of a calvaire typical of the Breton region of north-west France. Some of the soldiers buried in the cemetery were casualties from the use of gas by the German Army on 22 April 1915 and the subsequent battle that ensued which became known as the Second Battle of Ypres. The French 87th Division, with most of its men coming from Brittany, was in the line in the northernmost part of the Ypres Salient on that day in late April. It also took part in the battles of late April and May to hold back the German advance towards Ypres.
The sculptor of the monument, Jean Fréour (1919-2010), was a member of the Breton art movement Seiz Breur. In his long working life he created many religious calvary monuments and fine statues in Brittany and other parts of France. Breton calvaire monuments were typified by having three-dimensional figures on and around the cross. In this style Fréour has included women at the foot of the cross, grieving for their soldier husbands, sons and brothers killed in action.
This memorial was unveiled in this location in 1968.
Location of Saint-Charles-de-Potyze Cemetery
St. Charles-de-Potyze French Military Cemetery, Zonnebeekseweg, 8900 Ieper, Belgium
Latitude 50.863448; Longitude 2.926132
The St. Charles-de-Potyze French military cemetery is located on the east side of the Zonnebeekseweg (the N332 Potyze-Zonnebeke road), approximately 1.5 kilometres north-east of Potyze village.
Related Topics
Le Mont-Kemmel French Cemetery
Le Mont-Kemmel French military ossuary, located on the Kemmelberg (Mont-Kemmel) south of Ieper:
le Mont-Kemmel French Military Cemetery
French War Graves Agency
Find out more about the organization which looks after the WWI French military graves at:
Cemeteries and Memorials in the Ypres Salient
For a comprehensive listing with map locations for British, French, Belgian, German and American cemeteries or monuments in the Ypres Salient see our listings at:
Cemeteries in the Ypres Salient
Monuments and Memorials in the Ypres Salient
Acknowledgements